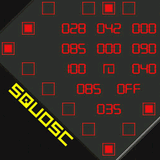 Pluggotic has released Squosc, a free effect plug-in inspired by squareboxes.
When any material passes through it's input the constantly running oscillators are modulated via an envelope follower. Unusual oscillators intermodulations and a series of "bend-buttons" offer a cheap and non-always-logic escape from traditional midi-note or pattern based composition. an example could be a drumloop turned into bleeping melodies, electric basslines, trashy drones, 8bit style sweeps and other less-stable oddities, Squosc comes with 33 horrible presets for quick non-sense.

When it's input is silent, it doubles up as a tone generator.

Well know for the raw sound, squareboxes are usually processed with guitar amplifiers, filters, reverbs or whatever chain of fxs. they come unlabeled pretty often, too. Squosc makes no exception.
Squosc is available to download as a freeware VST effect plug-in for Windows PC.
Visit Pluggotic for more information.