Plughugger has launched a new soundset called Ambient Evolution, featuring a collection of 150 presets for the Repro synthesizer bundle by u-he.
Inspired by the ambient electronic sound of the 1970s and 80s, the collection is based on analog equipment and outboard gear to create warm tones and sequences and arpeggios with unusual tunings.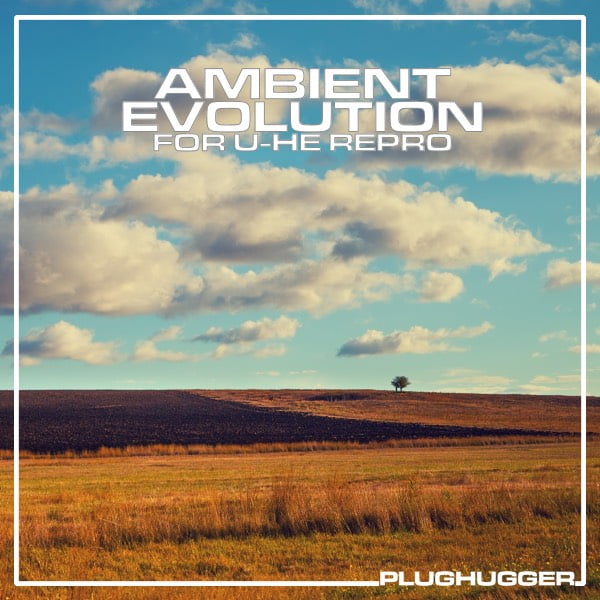 With the dual nature of u-he Repro with both a polyphonic synthesizer (Repro-5) and a monophonic synthesizer with sequencer (Repro-1) – Plughugger recreated the vintage ambient analog sound of past decades.
Ambient Evolution is split into two parts, based on the two Repro synthesizers. The Repro-5 synthesizer contains all the polyphonic sounds, pads, synth leads / plucks / pianos.
The Repro-1 synthesizer exclusively contains sequences, phrases and looped oddness. While the sequencer in Repro-1 can only play one note at a time, Plughugger managed to make it "duophonic" by matching the velocity to the tuning – the result is a sequencer that can play two notes individually, which greatly adds to the vintage ambient feel.
Ambient Evolution contains 150 sounds:
Repro-1 Presets (75 sounds)

75 Sequences / Arpeggios.

Repro-5 Presets (75 sounds)

24 Pad and Synth Strings.
24 Synth / Keys sounds.
3 Bass sounds.
6 Effect / Hit sounds.
11 Soundscapes / Textures.
5 Drum sounds.
2 Sequences / Arpeggios.
The soundset is on sale for 9.90 EUR until February 3rd (regular 14.90 EUR). Use coupon code CHILLINGOUT at checkout to get the 33% discount.
More information: Plughugger