Plugin Alliance has announced that it has contributed six multi-format (including AAX DSP/AAX Native) plug-ins to Avid's recently-released AAX Pack, making it the main contributor to this 18-plug-in-strong bundle.
The AAX (Avid Audio eXtension) plug-in format was launched last year alongside Pro Tools 10 to provide better workflows and sound parity when sharing sessions between DSP-accelerated and native-based Pro Tools systems; AAX Pack offers Pro Tools|HDX and Pro Tools|HD native owners running Pro Tools 10 software a must-have collection of superior-sounding, studio-essential AAX plug-ins from the world's leading plug-in providers, including six of the best from Plugin Alliance.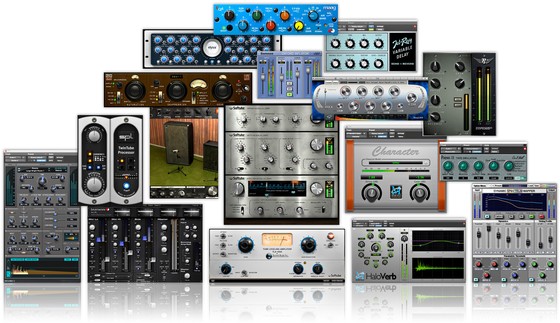 Plugin Alliance plugins included in AAX Pack
Brainworx bx_limiter is a great-sounding, simple, but effective low-latency limiter plug-in designed to help determine how many dB of dynamics to reserve for each and every signal — go louder with more punch, less distortion!
Brainworx_XL V2 is based upon the M/S technology taken from Brainworx's bx_digital, a 'modern classic' high-end analogue M/S EQ developed in 2006/7 — maximize your loudness with this powerful peak limiter!
elysia alpha compressor is a software recreation of elysia's acclaimed mastering compressor, emulating its sound and features to match the analogue hardware as closely as possible — programmed by the coding experts from Brainworx!
Mäag Audio EQ4 successfully models Mäag Audio's renowned EQ4® (500 Series) equaliser — retain original sound integrity and enhance 'airy' frequencies while shaping sounds to perfection with this studio-coveted six-band EQ!
Pro Audio DSP Spectrum Mapper V2 was developed by former Sony OXF R3 digital console development team members using groundbreaking adaptive techniques — create great-sounding vocal tracks with this unique compressor/limiter/de-esser!
SPL TwinTube transfers the warm, transparent, and smooth sound of analogue tube and coil filtering to the digital domain — add the warmth and presence of SPL's renowned RackPack modular system processor!
Plugin Alliance has also announced major updates for all its currently available plug-ins from global partners Brainworx (Germany), elysia (Germany), Mäag Audio (USA), Noveltech Audio (Finland), Pro Audio DSP (UK), SPL (Germany), and Vertigo Sound (Germany); all are now conveniently grouped in the same menu (named Plugin Alliance) and listed alphabetically — no need to go searching anymore.
The AAX Pack is available to registered Pro Tools|HDX and Pro Tools|HD Native owners for $1,295 USD from all Avid pro audio resellers until December 14, 2012. All six Plugin Alliance plug-in licenses sold as part of the AAX Pack are non-transferrable and must be registered on the Plugin Alliance website to activate them.
More information: Plugin Alliance