Plugin Boutique has announced a new Exclusive Bundles+ collection with three effects for supreme vocal sounds at nearly 40% off the regular price.
The Vocal Supreme Bundle provides an eclectic toolset to start creating your own signature vocal sound.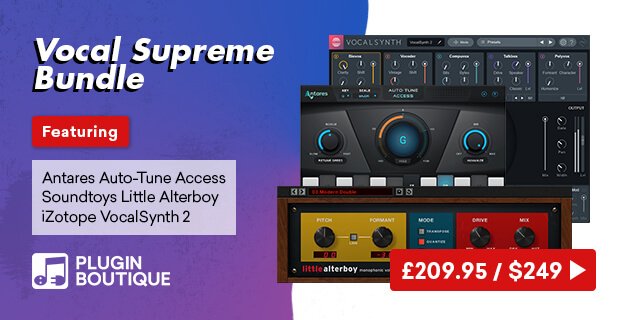 Introducing the Vocal Supreme Bundle, three vocal effects for achieving a vocal sound of the highest quality.

Featuring industry-standard auto-tune, iconic vocoding effects and tools for powerful vocal formant & pitch manipulation, the Vocal Supreme bundle opens up a world of vocal processing possibilities, providing a complete set of tools to sculpt, shape and produce your vocals to perfection.
Antares Auto-Tune Access is your route to world-famous auto-tune sounds.
It is built on Antares' classic Auto-Tune technology that has become a staple in today's music production, with real-time pitch correction, retuning and humanising parameters for quickly achieving your desired auto-tuned sound.
iZotope VocalSynth 2 is a one-stop workstation for past, present, and future vocal sounds.
Scientifically modeled on the human vocal tract, it features five eccentric modules for otherworldly vocal manipulation.
Soundtoys Little Alterboy is a powerful little vocal tool for dramatic voice alterations.
Create crazy robotic effects, shift the pitch and formant of your vocals, or create instant vocal harmonies for your tracks.
This bundle is exclusive to Plugin Boutique and available for a limited time only, priced £209.95 GBP / $249 USD.
More information: Plugin Boutique