The latest edition of Plugin Boutique's Top 5 Friday sees a round-up of some of the best limiter effect plugins.
Tim Cant's list includes FabFilter's excellent Pro-L 2, TDR Limiter 6 GE, Signum Audio's Bute Limiter, Elephant by Voxengo and the Sonnox Inflator V3.
Sonnox are a dependable name in the classic plugin stakes, and their Inflator limiter has been squashing tracks for years without complaining or breaking up.
Coming from the world of traditional mixing and mastering engineering, the Sonnox approach is all about the analogue style, as demonstrated by the four main controls here.
You get Output and Input faders to set your intended reduction, and then Curve and Effect faders to control what's actually going on under the hood to cause this reduction. The result? A well limited signal with a good amount of customisability and no fuss.
If you demand an analogue-style limiter and have a spare £138 lying around, give it some thought.
Coming in just one shade of grey, but certain to whip any sub signal that has the temerity to go above 0dB, Voxengo's is a no-nonsense tool for eking that extra edge out of your audio.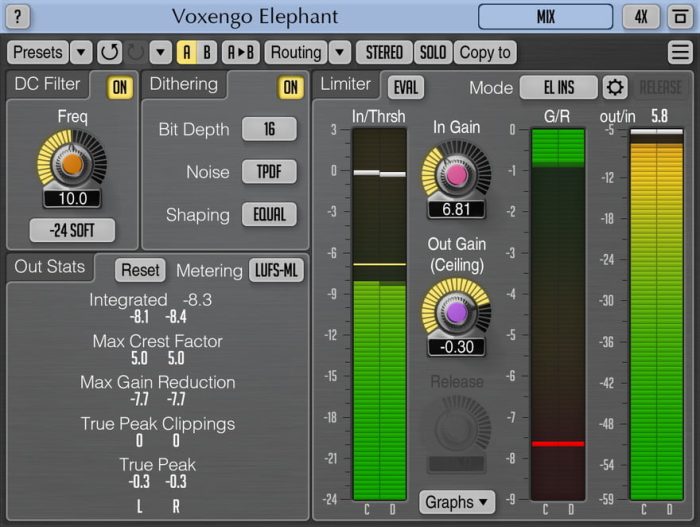 Two main controls – Input Gain and Output ceiling – help you set your expectations from the start, and you can check out the optional Release setting too. There's DC filtering, dither and more in this one, as well.
Being a mastering limiter, Elephant's level metering has to be on-point, and you get a high-res readout of exactly what's happening to your amplitude, alongside a set of options for choosing how the metering is set.
Elephant is a cool £115, which shouldn't be loads of money if you're in the business of getting things ready for broadcast.
With the usual swathe of awesome features from FabFilter, Pro-L gives you limiting in various styles and mode, cutting down on your peaks with as much customisation as you like.
There are Attack and Release controls here, Lookahead, and different ways to link left/right channels, depending on your needs and your source material.
What else is here? Linear-phase oversampling, dithering, noise shaping, and support for surround sound make Pro-L a no-brainer for pro engineers. It doesn't come cheap though, at £152.
2. Limiter 6 GE by Tokyo Dawn Labs
False advertising! The 'Gentleman's Edition' of Tokyo Dawn's Limiter 6 is not just a limiter – actually two of them, but then also a compressor, a clipper and more.
With its ability to compress, thanks to the algorithms from Tokyo Dawn's Molot compressor plugin, Limiter 6 is a great candidate for mixing duties too, and with the ability to reorder the modules, things like serial compression are easy. There's also mid/side or left/right modes, and the ability to unlink in either formulation.
Back to limiting duties – you can set Limiter 6 a target level and let it do the reduction itself, and there's easy comparison of before-and-after signals with the Auto Pad button.
1. Bute Limiter Stereo by Signum Audio
Hailing from the snowy peaks down under, the land where camels and jungle jaguars traverse the desert plains – that's right, Scotland – Signum Audio's Bute range started out as an analysis plugin, but quickly grew to encompass an actual limiter as well.
Naturally, this resulted in a limiter than was more than capable of telling you exactly what's going on with your audio signal.
Bute Limiter comes in Stereo or Surround versions, giving you an advanced limiting algorithm with five choices of release shape, gain matching, and probably more information about your waveforms than you ever wanted.
The Stereo version of Bute Limiter is a cool £70, making it a bargain compared to most others in this round-up.
Check out Plugin Boutique for more limiter plugins and to download trial versions so you can try them yourself.
More information: Plugin Boutique