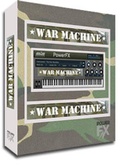 PowerFX has released The War Machine VSTi, a sample player featuring war type sound effects.
"The War Machine" Machine guns, missile launchers, single shots, rocket blasts, cannons, flame throwers, tanks, jet fighters and earth shattering explosions are just some of the weapons of mass destruction loaded into this powerful VSTi plugin!
The War Machine features
87 sounds programmed into the Maize VSTi Sample Player (included in the product).
Maize Sample player features: disk streaming, ADSR envelope, and reverb.
Sound effect are also included separately as .wav sound files for added user flexibility.
The War Machine is available for Windows PC as standalone and VSTi, and costs $99 USD.
Visit PowerFX for more information and audio demos.
Price: 99USD