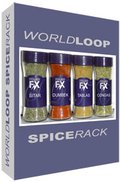 PowerFX has released World Loop Spice Rack, a sample library containing 1,220 melodic and percussive loops and riffs of authentic ethnic instruments from Africa, Australia, China, India and the Middle East.
World Loop Spice Rack features
Rhythmic

Arabic Percussion: Bendir, Bolone, Darbouka, Karkabou, Rai Percussion ensemble, Tabakai, Takhalt, Zalamit, Frame drum, Dumbek.
Indian Percussion: Tabla, Dholak, Bass Dholak, Ganjira, Udu, Mridangram.
African Percussion: Djembe, Talking Drum, Log drum, Crash box.
Australasian Percussion: Clap Sticks, Monkey drum, Knee drum.
World drumset: From West Africa and the Caribbean.

Melodic

African Instruments: Marimba, Mbira, Eygptian Lute, Vocals.
Middle Eastern: Kamenche, Rabab, Setar, Tar, Jimbash Saz, Riq.
Chinese Instruments: Pipa, Di Zi, Jing Ho (One String Peking Opera Violin), Gu Zheng (Chinese zither), Rehu (string violin).
Indian Instruments: Sarod, Sitar, Surbahar, Pungi, Vocals.
Also included: Digeridoo, Charango, Berimbau, Bouzuki.

All loops are acidized wav files in 16 bit 44.1 with tempo and key (when applicable) information in the file name.
Size: Download 598 MB (.RAR) uncompressed 890 MB.
World Loop Spice Rack is available for $79 USD.
Visit PowerFX for more information and audio demos.
Btw, I don't know what the guys at PowerFX were thinking when they came up with that cover… Ah, see Bil's comment below. The old cover is no more. Nice job guys!