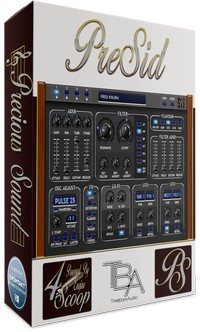 Precious Sound has announced the release of PreSid, a sample library for Kontakt 5 and Maschine.
Presid is the most comprehensive 8580 Sid chip based library on the market.

PreSid is the first product based on our propriety "4Scoop" engine. Further releases will follow using the exclusive Precious Sound "4Scoop" engine. Our "4Scoop" engine has been developed to allow new features to be implemented and we have an open road map for our engine.
PreSid features
4 Oscillators with independant Amp ADSR/Filter ADSR, 2–Switchable Envelopes per Osc Amp Adsr (Normal/Punch).
20 WAveforms sampled from Sid chip–4 Selectable Flavours Per Osc (Raw/1073/512C/Tape).
2 LFOs per Osc, each with adjustable Speed, Depth and Sync–Shape: Sine, Triangle, Rectangle, Sawtooth, and Random/Destination: Filter Cutoff, Filter Resonance, Osc Volume, Osc Pan, Osc Tune and Osc Fine Tune.
Octave function to shift +/- 3 octaves per Osc (natively plays samples does not tune sample)–Inv Phase per Osc, Sample start adjustment per Osc.
7 FX per Osc–Lo-fi/Distortion/Flanger/Phaser/Chorus/Saturation/Limiter.
6 selectable Filters per Osc–LP/HP/BP/Notch/Phase/Vow, Adjustable Key track and Velocity amount.
Copy paste Osc settings to another Osc.
Global Dual LP/HP Filter–Global filters can be linked to behave like a BP Filter.
Global summing mixer–Global Insert effects Width/Distortion/Tape Saturation/Eq/Limiter, Global send effects Phaser/Flanger/Chorus/Ir Reverb/Delay, Unison (up to 8 voice), Global Amp ADSR with a softer curve.
Onboard Preset system (load and save presets via the global panel)–All sounds heard in demo's on site and in product video are availible in the preset folder, 45 presets to help get you started.
Intuitive design–Large LED info Panel for a visual aide when setting up the synth.
Double clicking the Precious sound icon will Init the synth (top right hand side).
3.85GB Kontakt Library–1.31GB First instance 140mb per instance after.
149 MB Maschine package.
Deluxe/Maschine pack only

415 Raw Sid drums and FX.
397 Processed Sid drums and FX, 88.2 24Bit Files (can be used in any sampler), Mapped and organised in Maschine, neat folder structure.
20 Maschine kits (including patterns).
PreSid for Kontakt is avaialble to purchase for £39.99 GBP inc VAT/$49.99 USD; PreSid Maschine is £14.99 GBP inc VAT/$19.99 USD, and the PreSid Deluxe (Kontakt + Maschine) is £49.99 GBP inc VAT/$64.99 USD.
An introductory offer of 20% discount is available for the Deluxe pack until 15 October, 2012.
Precious Sound has also announced the "PreSid 8Bit Homage Competition", in which you have the chance to win a free copy of PreSid Deluxe.
Name the composer and the game the homage tracks 1/2/3 originated from. Please comment on the youtube video, the first person to guess all three correct we will contact and send out a free copy.
The tracks are also located on our website (Homage 1/2/3)
More information: Precious Sound