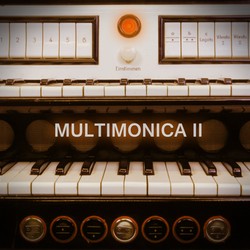 Precisionsound has announced the Multimonica II, a sample library featuring a vintage analog synthesizer that combines vacuum tube synthesis with a fan-powered reed organ, and is equally at home in electronic and acoustic music.
The Hohner Multimonica II was designed by the German engineer Harald Bode in the mid-1950s. A predecessor to the Clavioline tube synthesizer, the Multimonica II combined vacuum tube synthesis with a fan-driven reed organ.

We sampled both the synthesizer and organ sections of the Multimonica II, capturing every setting and register for each note on the original instrument. After fine-tuning and seamlessly looping the samples, we rebuilt the Multimonica II within virtual samplers for use in your music.

For the synth section, you get the true sound of the analog instrument with huge improvements in control and stability, way beyond what's possible with the real thing.
Multimonica II features
205 stereo and 350 mono 24-bit WAV samples.
8 multisampled synthesizer settings.
5 multisampled accordion-style registers.
2 programs for NI Kontakt 3-5 with scripted performance controls and GUI.
14 programs for NI Kontakt 2.
20 programs for Logic EXS24.
13 programs for SoundFont.
The total size of the library compressed is 345 MB.
Multimonica II is available to purchase for $59 USD (CD/DVD backup for additional $9.95 USD or/and digital backup for $3.95 USD). All formats are included when you buy Multimonica II.
More information: Precisionsound / Multimonica II