Premier Sound Factory has released Wurly Premier G, a free vintage electric piano instrument for Native Instruments Kontakt.
While the samples of this instrument library are not new, this version now comes with an easy to use interface. It features a Wah Pedal (Cry Baby simulation), Tremolo effect, recording studio sampling reverb with the same impulse responses of Drum Tree, Studio A and Studio B, and a Space Echo reverb with five original super smooth space echo IRs (analog spring reverb and tape delay).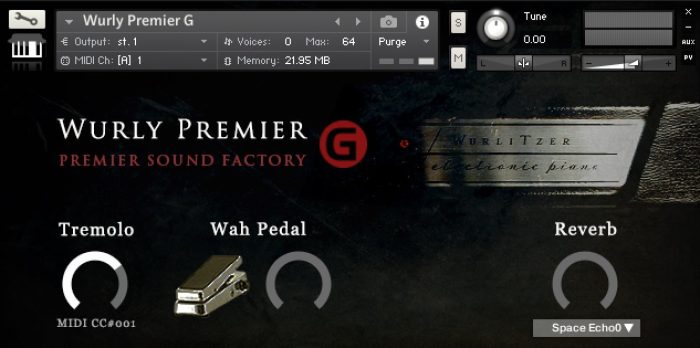 I recorded these samples way back in 2001, yet some people still say that this is their favorite Wurlitzer library. I think that is probably because it was recorded using the built in mini speakers of Wurlitzer, instead of through line in. The Wurlitzer is a vintage keyboard, and therefore a completely analog system. It makes a lot of background noises, which are missing from most keys in the digital age. For example, it has poor SN, and you can hear the constant striking of the wooden hammers coming to meet the metal reeds. That's just one of the reasons why the sound of these vintage keys are so sweet and fascinating.

I never tried to clean up the sound, because I believe these natural background noises are very very important. Wurly Premier G has 2 different release noises at the same time. One is for the sound that mute pad touching the strings makes, and the other is hammer release action. The famous Wurlitzer tremolo is also equipped of course, and adjusted exactly to the same pitch of true Wurlitzer LFO. I wanted to build a clone of the Wurlitzer 200A instrument.
Wurly Premier G is a free download for Kontakt 5.7 or higher (full version).
Also available is Clavi Premier G, a Kontakt library featuring the sounds of the Hohner Clavinet D6.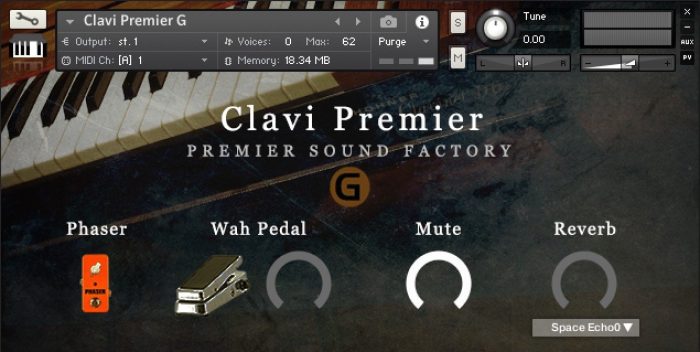 Similar to the new Wurly instrument, Premier Sound Factory took the previous Clavi Premier and gave it a new interface, Phaser effect, Wah Pedal, Mute option and the recording studio sampling reverb and Space Echo reverb.
All samples recorded in whole sound with no loop. You can load it in any sample rate session, but you will achieve the 100% purest and best performance in 96-192kHz session.
Clavi Premier G features features
96kHz/24-bit Hi-Res raw samples.
8 velocity layers + 2 release layers.
Phaser effect.
Wah Pedal (Cry Baby Simulation).
Mute Lever Simulation.
Recording studio sampling reverb.
Five Space Echo IRs.
The Clavi Premier G is available for $19 USD. It also requires the full version of Kontakt 5.7 or higher.
More information: Premier Sound Factory