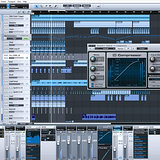 PreSonus has released a demo version of Studio One, a complete music creation and production software.
Studio One is a groundbreaking music-creation and production application for Mac OS X and Windows XP/Vista that makes audio recording, MIDI sequencing, and audio mastering ridiculously simple right out of the box, yet provides a wealth of professional features.

Fresh code, innovative drag-and-drop MIDI mapping and plug-in management, auto-configuration with PreSonus hardware, insanely good audio quality, unlimited tracks and plug-ins per track, and a powerful, inventive Start page that literally puts the whole project right in your hands are just a few of the compelling features that make Studio One the next generation in audio software. Far from just another music-production program, Studio One changes the rules of the game, giving you a complete, easy-to-use solution from raw tracks to finished master, while supporting the latest standards and technologies.
Studio One features
Studio One Artist
Elegant single-window work environment.
Powerful drag-and-drop functionality.
Unlimited audio tracks, MIDI tracks, virtual instruments, buses, and FX channels.
Content browser with convenient sort options and preview player.
Automatic delay compensation.
Advanced automation.
32-bit processing.
Easy-to-use sidechain routing.
Stunning virtual instruments.
User-friendly sampler.
Most intuitive MIDI-mapping system available.
Real-time audio timestretching and resampling.
K-System metering.
Compatible with any ASIO-, Windows Audio-, or Core Audio-compliant audio interface.
Works with key commands from Pro Tools, Cubase, and Logic.
Native Effects™ 32-bit effects library with 20 dynamics processors, reverbs, modulations effects, amp simulators, etc.
Four virtual instruments:

Impact™ Sample Trigger Drum Instrument with 32 drum kits by Ueberschall™.
Presence™ Sample Player Virtual Instrument with 200 sampled instruments by Digital Sound Factory™.
SampleOne™ Sampler Virtual Instrument.
Mojito™ Analog-Modeling Subtractive Synthesizer.

Native Instruments™ Kore™ Player with 150 instruments.
Native Instruments™ Guitar Rig LE.
Toontrack™ EZDrummer Lite.
Nearly 1,400 drum loops (1.4 GB!) by Bandmate™ Loops.
Free jambalaya recipe!.
Studio One Pro, includes everything in Studio One Artist plus:
Integrated mastering suite with automatic mix updating, Red Book CD burning, and digital release.
64-bit audio engine (instead of the 32-bit version in Studio One Artist).
AU, VST2, VST3, and ReWire support.
PreSonus Native Effects™ 64-bit plug-in library, with 26 dynamics processors, reverbs, modulations effects, amp simulators, etc. This includes 64-bit versions all of the Native Effects plug-ins found in Studio One Artist and:

Analog Delay tape-delay emulation.
Expander mono/stereo expander.
Gate noise gate.
Groove Delay multitap and tempo-synchronized delay.
Multiband Dynamics mono/stereo multiband compressor/expander.
Pipeline hardware insert (allows you to use external hardware processors with Studio One Pro, including delay compensation).

Native Instruments™ Guitar Rig LE.
100 additional premium sampled instruments by Digital Sound Factory™ for PreSonus Presence.
200 additional instruments by Native Instruments for Kore Player.
Toontrack™ EZDrummer Lite.
More than 2,000 additional loops (4 GB) by Bandmate Loops.
The Studio One 30-day demo version is available for Windows and Mac upon request (email address required). The demo is fully functional with the exception of saving of documents or exporting audio.
More information: PreSonus