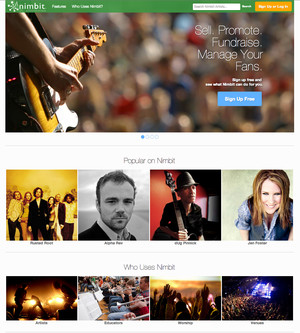 Presonus has announced an all-new Nimbit, the musician's direct-to-fan marketing and promotions platform, which has been completely reinvented to focus on what today's musicians need most: automated, integrated tools that enable engaged and monetized relationships with their fans.
Capture and Reward Fans at Live Shows with FanCheck.in

When PreSonus queried its customers, at the top of their wish list was a better way to deliver live recordings quickly to fans and to capture fans at live events. Now, with Nimbit's FanCheck.in, you can reward fans for checking in at or after live events with a simple URL or QR code. Rewards can be a live recording from the event, an exclusive mp3 download, a video from the artist, or a special offer. The fan makes an immediate connection, and you capture their email address, linked to the event they attended. Then follow up after the show with the entire live recording or another special offer and reach out to these fans when you play in their area again. The followup offer can even be automatically emailed at a set time after the show. Beta testers of FanCheck.in achieved email capture rates as high as 22% of the venue capacity. Try that with a notebook at the merch table!

New Google-enhanced Calendar with Automatic Geotargeted Promotion

You can now promote upcoming events to fans more effectively using the new Nimbit Calendar. With just a few clicks, set up events using crowd-sourced venue data and integrated Google Maps. Events display on your Profile and can be promoted to fans via automated, geotargeted announcements and reminders to fans at preset intervals before live shows. Because your Nimbit Calendar and email tool are tightly integrated, simply enter your tour dates and enable reminders to fans, and Nimbit will automatically send your tour promotion to the right fans at the right time.

Razor Focused and Automated Email Tools

The new email marketing tool makes it easy to send beautiful newsletters, event announcements, and promotions that can be automated and targeted to specific fan groups-no Web-coding experience required. Combined with Nimbit's fan list and deep fan-filtering capabilities, email marketing lets you send personalized and relevant emails, including recurring messages.

New Artist Profile

PreSonus has overhauled the Nimbit Store with a new, fan-facing artist Profile, designed to be a central place where fans can have a richer experience with artists. The new Profile combines photos, a bio, upcoming events, videos, streaming audio, featured promotions, and more. Even those new to online promotion can set up or manage their Profiles in just a few minutes.

It's easy to enhance your Web site with your Nimbit Profile, Store, Calendar, or any combination by copying and pasting embed codes (just like adding a YouTube video). Sell and promote to fans direct on Facebook by installing the Nimbit Facebook app. And your Nimbit Profile is instantly available on Nimbit.com as soon as you're ready.
A Nimbit account is free, including many of Nimbit's best features. A la carte features are available for purchase, or get the Nimbit Premium for $19.95 USD per month.
More information: Nimbit