Sinevibes has announced the release of Flow, an animated flanger effect plug-in for Mac.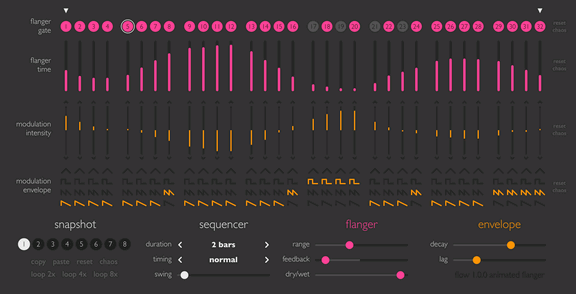 Flow is a flanger that goes far beyond traditional – instead of simple up-and-down sweeps, it employs a sophisticated envelope sequencer to modulate the sound in a rhythmical fashion. Flow has two different flanger characters with positive or negative feedback, advanced synchronisation and timing features, plus a host of automation and randomisation options. All this combined allows you to create a myriad of unique effects: from intricate "jet plane" patterns and dancing comb filtering to complex swooshes or stuttered glitches. Plus, each instance of Flow stores eight snapshots of itself that can be switched in realtime or via automation.

As always with Sinevibes products, Flow has a clean, colour-coded user interface with a near-zero learning curve. It is built entirely using Apple's Core Animation framework – so not only it offers organic, lively animations, it also uses your Mac's graphics processor letting the central one concentrate solely on audio processing. This makes Flow both productive and utterly joyful.
Flow features
Flanger with positive/negative feedback, adjustable time range from 0.5 to 20 ms.
Step sequencer with up to 32 steps, variable speed, timing and shuffle.
Flanger gate, flanger time, envelope modulation depth, and envelope shape individual per each sequencer step.
Eight full instance snapshots, multiple utility and randomisation functions.
Advanced transport sync algorithm with support for tempo and time signature automation.
Flow is available for purchase for $29 USD, or with a 50% discount as part of the Sinevibes complete plugin collection bundle.