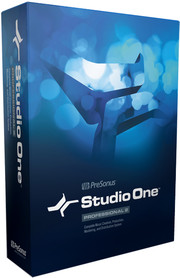 PreSonus has updated its Studio One music production software.
PreSonus has officially shipped the much-anticipated version 2 of its groundbreaking Studio One DAW and immediately issued Studio One 2.0.2, a free incremental update that fixes several issues.
Changes in Studio One v2.0.2
Keep automation, solo, and insert activation state on track transform.
Ampire had missing custom sounds.
Slicing could be slow and had no progress dialog.
Pencil tool was not working in tempo track.
Humanize was not applied to velocity.
Show Track command did not reveal tracks.
Track was not always inserted after the selected track.
Split Loop command was not working on the audio part container.
Stretch cursor is now displayed for audio-part resizing.
Automation Edit Value was not working for third-party plug-ins.
Manual silence-detection values were not applied.
Improved drawing performance with many events.
Main Out mono function used only the left channel.
Crash with Strip Silence on long clips.
Clear Recent Files contextual menu was missing on Start Page.
ProEQ cut high frequencies in HQ mode.
Sample One did not play the second layer.
(Windows) DDP export was not working.
(OS X) SoundCloud upload failed.
(OS X) 64-bit versions of Ampire and OpenAIR had crackles in the sound.
(OS X) Installer gave a misleading error message after downloading third-party plug-ins.
(OS X) Crash when removing Instrument with right-click menu.
(OS X) Slow redraw of detached mixer.
More information: PreSonus / Studio One