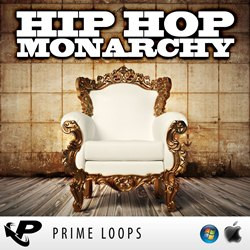 Prime Loops has launched Hip Hop Monarchy, a sample pack featuring 550MB+ of smooth Hip Hop loops.
There's no denying that Hip Hop rules the airwaves and long may that continue, but for this honorable genre to prevail as king of the swingers, someone's gonna have to take charge. Hip Hop Monarchy presents a fresh set of sounds for those challengers to the throne who require a brand new set of elements to push Hip Hop forwards and strengthen its decadent legacy.

Reigning strong with a colossal 550MB+ of content comprising of 90 individual samples, there's a wealth of possibilities within Hip Hop Monarchy! Featuring 9 main folders, each holding their own subfolders of Bass Loops, Brass Loops, Percussion Loops, Piano Loops, String Loops and Synth Loops, you can build the basis of your mix at 70, 80, 90 or 100 BPM. Each sample's tempo can be altered to whatever speed you desire with a simple click and drag once you've added it to your mix which is a simple process of dragging the file from download folder and dropping it into your DAW! Hip Hop Monarchy will sync automatically with any pre-existing mix in any major name sampling software and every sound in this pack is delivered at a highly polished 24-bit High Definition sample rate.

From plush piano refrains to rich brass loops, commanding strings and velvet synths to rumbling royal beats, this pack will allow your productions to rule the Hip Hop scene with a firm iron grip.
The sample pack costs £16.95 GBP.
More information: Prime Loops