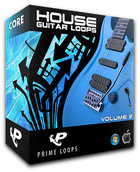 Prime Loops has released House Guitar Loops 2 and DnB Foundations.
House Guitar Loops Volume 2 is the long awaited sequel to the smash hit release which saw great exposure in the charts after being used on several hits worldwide.
This time, we've taken it a step further with even more inspirational bleached latin rhythms, dusty jazz chord progressions, trashy nu-rave licks, Sunkissed funky grooves, bespoke worldly textures, furious disco leads, radical rock overdrives, sultry acoustic jams, sample-ready motown flavours and distilled electric guitar sessions…and, as if that wasn't enough, we've also added some skilfully processed audio synthesis magic into a selection of the guitar loops that quite simply puts this release a cut above the rest.
House Guitar Loops 2 features
150+ pristine Guitar Loops and Chords played in a wide range of styles and combinations.
Recorded in 24-bit audio, only the finest amplifiers and high-end acoustic and electric guitars were used in the creation of this song-writing package for maximum flexibility every time.
Perfectly suited to create a vast array of genres including House, Deep House, Funky House, Soulful House, Ambient, Trip Hop, Indie, Lounge, Breaks, Breakbeat, Funk, Latin, Soul, Rock and many more.
Equipment List:

Gibson Les Paul 1976
Gibson Les Paul custom
Fender Stratocaster
Yamaha APX 4A
Fender Hotrod
Marshall JCM 2000
Laney VH100R
House Guitar Loops 2 is available as a download in various formats for £12.95 GBP.
Prime Loops has also announced the release of "Drum n Bass Foundations", a combo of Drum n Bass Drum Loops and the critically acclaimed Rasta Vocal Samples at a special discounted price of £22.95 GBP.
More information: Prime Loops