Prime Loops has announced the release of two new sample packs.
The Sound of Sinden is infiltrating the airwaves all around the world!
From Radio 1 airplay to the Ibiza club scene, we're talking about a sound so contagious there are some pretty big players surrendering to the beat, spawning some seriously sick collaborations!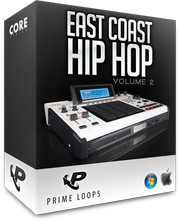 Now The Sound of Sinden is yours to explore in this latest instalment of Prime Loops' groundbreaking Artist Series!
East Coast Hip Hop 2 – From the aggressive, old-skool sound of such iconic acts as EPMD and Public Enemy, to the inventive, streetwise beats of contemporary legends such as Jay-Z, 50 Cent and Nas, "East Coast Hip-Hop Volume 2" packs the history of East-side Hip Hop into its bag of musical swag!
The Sound of Sinden costs £24.95 GBP, East Coast Hip Hop Vol 2 is £17.95 GBP.
More information: Prime Loops