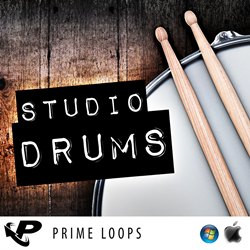 Prime Loops has launched Studio Drums, a collection of 420MB+ of expertly recorded live drum loops & one-shots, featuring over 250 live drum grooves and fills.
Recorded in a purpose-fit studio, complete with Neve channel strips, Thermionic Culture compressors and Prism Sound converters, Essential Studio Drums draws its influences from the sickest live beats in the game – whether you're smashing Rock snares, riding Pop hi hats or bouncing off of some Dance kicks, we've hammered all angles into one neat, dynamic live loop pack. Fix up any genre with our specially crafted drum sound, created using a classic Pearl Export kit and a whole lot of sweat! Designed for maximum impact, this collection is inspired by only the hardest-knocking tunes in Dance, Rock and Pop today, from Daft Punk and Prodigy to The Chemical Brothers and beyond.

This powerful live library weighs in at over 420MB and lands in the form of expertly played live grooves and drum fills, pre-mixed and mastered so you can throw them into your production and get going straight away. Loops are arranged into 4 folders by tempo, including 100, 110, 120 and 128 Bpm. We've also tossed in a folder of live drum one-shots for good measure, so you can construct your own live rhythms at the drop of a hat!
The sample pack costs £19.95 GBP.
More information: Prime Loops