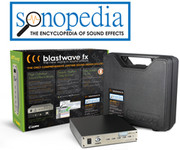 Pro Sound Effects has announced a Summer Sale on some of its sound effects libraries.
Itching to add some more Sonic Goodness to your sound effects library arsenal? August is the time to do it, as our summer sale on ALL Sound Ideas libraries extends throughout this month.
Pro Sound Effects Summer Sale
SONOPEDIA – $500 off

— Blastwave FX's flagship library, an encyclopedia of HD sound effects. PSE featured Sound Design Solution (SDS) Libraries.

20,100 HD sound effects pre-installed.
250 GB Glyph GT 050Q drive.
Broadcast .wav files (24/96, 24/48, 16/44.1) & mp3.
Search Software : Search, Audition, Drag N' Drop.
Free Updates for Life.
Glyph 3 Year Warranty.

Transportation I SFX

— USB Flash Drive/1037 sounds, $399 USD (regular $499).

Fire I SFX

— USB Flash Drive/67 sounds, $109 USD (regular $149).

Animals I SFX

— USB Flash Drive/316 sounds, $199 (regular $249).

Sound Ideas libraries

, all 30% off. From the Ultimate SFX Collection to Captain Audio, if it comes from the pioneers of the sound effects world, you get a sweet discount (over 100 libraries available).
More information: Pro Sound Effects