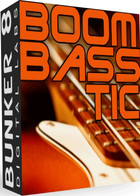 Producer Loops has released Bunker 8 BoomBassTic, a bass guitar loop collection for Hip Hop and Funk producers.
Bunker 8 Digital Labs presents to you 'BoomBassTic', the ultimate bass guitar collection for your greezy funk jams. Full of ear popping, booty bumping, phat funky grooves, this library will supply you with all the grease you'll need to get your tracks flowing. With 848 bass loops, at a total of 3.84 GB, these bass lines have been designed to blow the roof off the party before your hook even kicks in. Whether you're going for a classic P-Funk groove or a hip-hop vibe, every bass riff has the phatness needed to make your listeners move their feet and shake some trunk.
Bunker 8 BoomBassTic features
848 phat bass loops available in ACID/WAV and Apple Loops formats.
Recorded using the following bass guitars: Rickenbacker 4003, Gibson EB-3, Steinberger Headless, Fender Jazzman, Music Man Stingray, Höfner Violin, Eston Acoustic and the Washburn XB600.
Amplification hardware used includes amps by Mesa/Boogie, Hartke, Ampeg, Line 6, Warwick, Carvin A&I, Crate, Euphonic Audio, and Traynor.
Bunker 8 BoomBassTic is available for purchase for £18 GBP.
Visit Producer Loops for more information and audio demos.