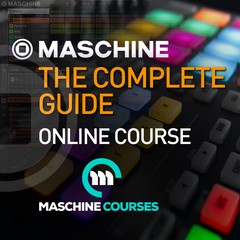 Producertech has launched Maschine – The Complete Guide, a new video tutorial course by Rob Jones.
This course takes you through every part of the Maschine software and hardware, slowly explaining how each one works and the ways they can be used to create a variety of different styles of music.

After every aspect has been covered, the course ends with a lengthy, 2-part tutorial, showing how to construct a classic house track from scratch, which is also available as a separate course for anyone who already knows Maschine quite well but simply wants some new tips for producing with it. Check out the individual Maschine House Production course, here.

The course comes with written notes to follow, as well as the Maschine projects created in the movies. Plus, there are 240MB of royalty-free samples from Loopmasters included in the course pack.
Maschine The Complete Guide features
Comprehensive guide to Maschine by Producertech's certified trainer Rob Jones.
Covers every aspect of the software and hardware and numerous production techniques in different styles of music.
Includes a 2-part lesson on producing an entire track from scratch.
Written notes and Maschine projects for every lesson, as well as £25 worth of additional royalty-free samples.
Tutor available on the Producertech forum for support when required.
The course is available now at Loopmasters for £49.95 GBP.
More information: Producertech