SoundCloud has introduced SoundCloud Pro, offering two new subscription plans.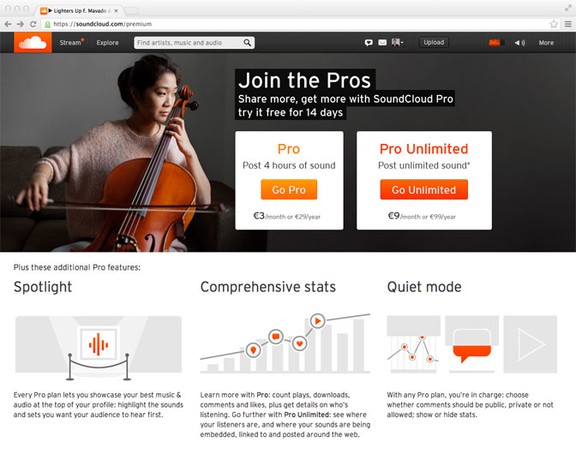 Following the great feedback you've sent us over the last few months, we're excited today to be able to give you a heads up: we're launching brand new subscription plans. Simpler and better value, SoundCloud Pro will make it even easier for you to share your sounds and grow your audience.

Our Pro and Pro Unlimited plans will replace Premium Lite, Solo, Pro and Pro Plus. Easier to use, they offer more upload minutes for your money, plus access to the tools that matter the most to you.

We really appreciate all of you who've already been using Premium to share your sounds, making such a huge contribution to the SoundCloud community. If you're already a Premium subscriber, you can now upgrade your account to Pro at no extra cost.
SoundCloud Pro (post 4 hours of sound) is available at 3 EUR/month or 29 EUR/year, SoundCloud Pro Unlimited (post unlimited sound) is 9 EUR/Month or 99 EUR/year.
More information: SoundCloud