Producertech has launched the Producer's Guide to Spire, a video tutorial course on the Spire synthesizer by Reveal Sound.
In this 3-hour course, Producertech senior tutor Rob Jones will take you through every section of the plugin interface and show a multitude of techniques for designing a variety of different patches.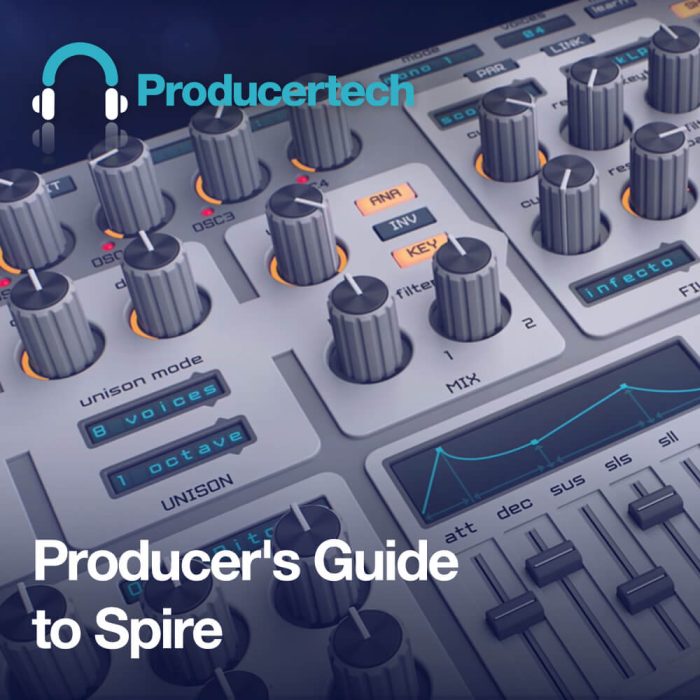 Spire's 4-oscillator sound engines offer a host of unique options for the type of synthesis, with amplitude, pulse width and frequency modulation all available, as well as a sync mode. This is further enhanced by a double waveform feature, where the first waveform is selectable from all standard oscillator types and the second from a long list of sample-based waveforms, which can be combined independently in each oscillator and made to interact in weird and wonderful ways. Once Rob has explained how each mode works and how waveforms can then be processed and blended in the unison and mix sections, he provides a number of patch design examples to help cement the techniques learned so far.

The next part of the course then tackles Spire's filters and various modulators, including envelopes, LFOs and a stepper, before moving onto the Arpeggiator, EQ and FX. Once every part of the synth has been dealt with, Rob moves onto a series of extensive patch design lessons, with the first showing the designing of a gritty, raucous bass, the second a gripping lead and the last a multi-part, groove sequence.
The course includes instant 24/7 access to the streamed tutorials for as long as you need, plus a download pack containing the patches made on the course and 10 bonus presets from Loopmasters.
Producer's Guide To Spire is available from Loopmasters for £17.95 GBP.
More information: Producertech