Producertech has launched the Complete Guide to Stereo Width, a video tutorial course by Rob Jones.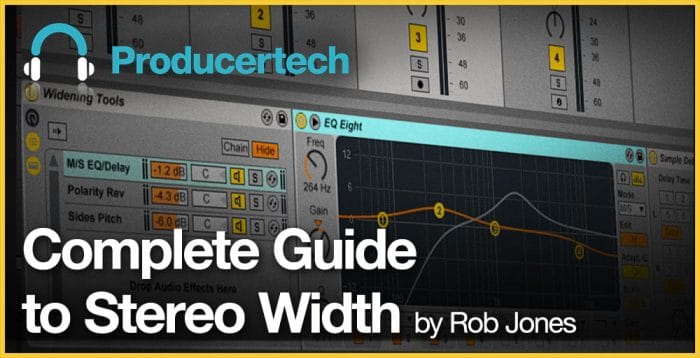 A thorough understanding of the width of different elements in a mix is a crucial skill for any producer wanting to create huge, wide-sounding tracks that will translate onto any sound system. On this course by Producertech Senior Tutor Rob Jones, you'll be armed you with all the knowledge you need to achieve this, whether through basic panning and application of various effects, more complex adjustment of phase and frequency, or independent processing of mid and side signals, both on individual sounds, return tracks and the master bus.

Each module discusses a different area of stereo mixing, with in-depth explanations of every technique and examples of how to apply them to drums, synthesisers, vocals and other instruments. Once a multitude of techniques have been thoroughly explored, there are 3 bonus lessons, including a lengthy tutorial that puts everything into practice whilst mixing an actual track. Throughout the tutorials, various Effects Racks are made, which come bundled with the course, so students not only learn about the inner workings of these advanced effects setups but also have instant presets to load up and apply to their mixes.

Alongside the streamed video lessons, accessible on any online devices, students can also download comprehensive written notes that accompany each module, featuring clear explanations to aid with the learning process. With feedback and assistance always available via the Producertech website, this course will truly take your stereo mixing abilities to the next level.
The course is available for purchase for £17.95 GBP.
More information: Producertech / Complete Guide to Stereo Width