Production Voices is offering its newsletter subscribers Estate Grand LE for sforzando, a free grand piano library based off the 11 GB Estate Grand for sforzando.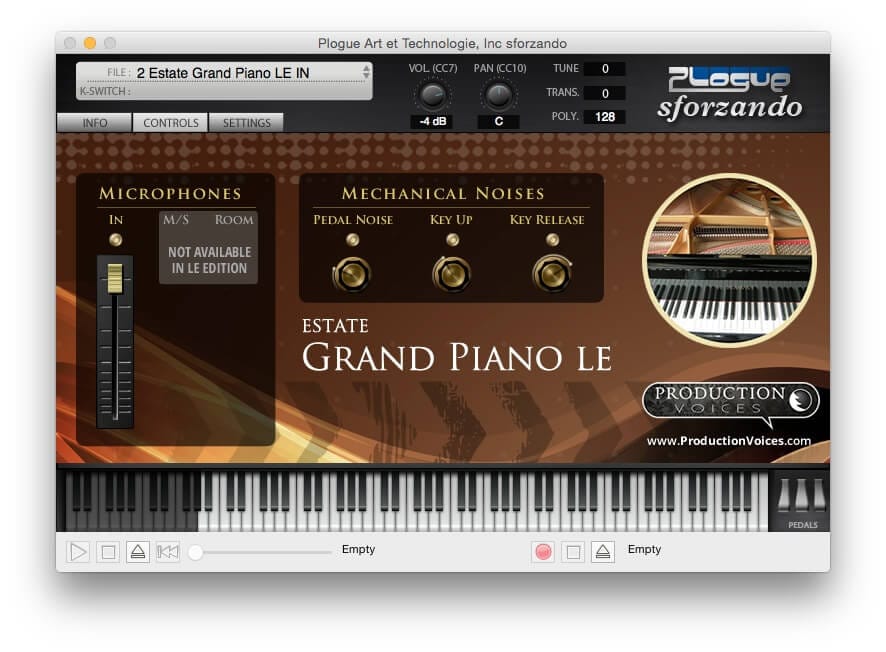 Production Voices' Estate Grand Piano is a beautifully hand-sampled Kawai GS60 6'9″ grand piano.

It was recorded with care and with only the finest equipment at a country estate in the heart of Southern Ontario Canada.
Estate Grand LE features
1.8+ GB sample size uncompressed.
Delivered in lossless FLAC compressed format
Easy 650mb download size.
Up to 10 velocity layers per key (Up to 25 samples per note: Pedal up, down and release samples).
791 samples
1 stereo microphone position.
Full pedal down and pedal up samples.
Authentic sustain pedal up and down noises!
Controllable keyboard action/mechanism noises.
Recorded at 24 bit 44.1 kHz with incredible detail and fidelity through Apogee Symphony I/O, Neumann and Rode microphones.
Made for the FREE standalone Plogue sforzando
All samples are taken from the larger 11 GB Estate Grand for sforzando.
Self-contained standalone player. No paid software required to run!
Works with all major DAW's such as Pro Tools, Logic Pro X, Sonar, Cubase and more!
Mac and PC compatible
64 bit compliant
Great sound quality, yet small size.
Estate Grand LE for sforzando is free to Production Voices newsletter subscribers.
More information: Production Voices / Estate Grand LE for sforzando