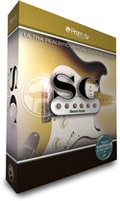 Prominy has announced SC Electric Guitar, a virtual electric guitar instrument featuring over 64 GB (approx. 123,000 samples) to bring you the true sound of Fender® Stratocastrer®.
SC Electric Guitar features
Incredible real-time playability – SC SPM (Super Performance Multi).
All the five pick-up positions can be reproduced.
Real chords – the extensive number of the 'real' pre-recorded chord samples.
Auto Stroke Detection.
Feedback.
Assignable Key Switch.
Double-Tracking.
The lower note samples (low C – low D#) are included.
Direct signals from the guitar.
Perfect sampled sounds of all fret positions on every string.
Picking noises are recorded in multiple forms on all frets and strings.
SC Electric Guitar is powered by Kontakt Player 2 and will be available in the first quarter of 2008 with an MSRP of $399 USD.
Visit Prominy for more information.