Prosocoustic has introduced its new WaveRoom kits, an easy way to bring whole-room acoustic treatment to any environment.
A complete ready-to-install solution, WaveRoom kits are perfect for studios, offices, restaurants, churches; anywhere better audio clarity is needed.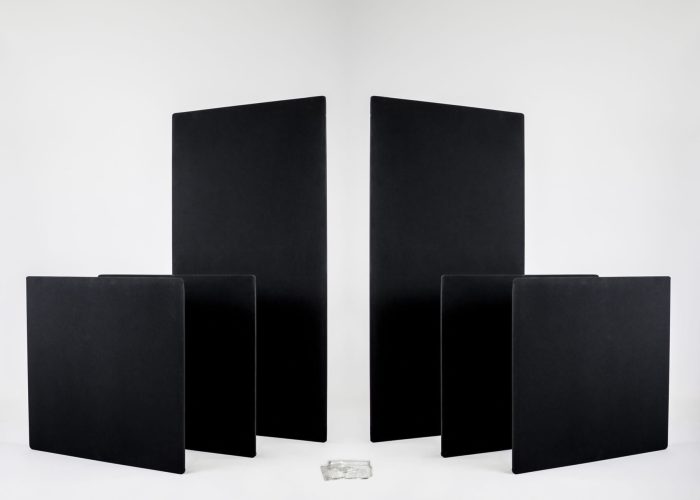 Each WaveRoom kit is designed for effective coverage of up to 100 square feet, and includes two 2'x4'x1″ and four 2'x2'x1″ Wave hybrid panels with all the mounting hardware necessary to hang them on your walls. Additional Booster Kits with 2'x4′ or 2'x2′ panels can be added for larger spaces. Corner Bass Trap Kits help tame lower frequencies.

Prosocoustic's revolutionary Wave series products absorb and diffuse sound at the same time. By utilizing a three dimensional molded frame, sound waves are scattered, increasing the acoustical properties. No other product on the market matches the technology of the WAVE series. Unlike other acoustic treatment products which use foam or fiberglass, Wave panels produce no noxious or poisonous fumes and are made of recycled and recyclable material.

This innovative solution to acoustic control features the hybrid Wave panel with 1″ absorptive material on the front and diffusion on the back. The acoustically transparent diamond weave fabric harmonizes with any decor and comes in Black or Stone.

Prosocoustic also offers Gobo Kits for use in recording studios, stages and live sound applications. Evolution Series aluminum frame panels can be paired with couplers and feet to create portable sound barriers. Additional panels and accessories can be bracketed together or arrayed in various configurations – a versatile way to sound bleed when recording instruments or amplifiers.

Prosocoustic products are made in the USA with environmentally responsible materials and production methods. Acoustic panels are manufactured using a by-product of the steel manufacturing process and melted natural basalt rock. Framing material products include recycled wood chip waste and aluminum, and staples and splining cords are favored over industrial glues.
Prosocoustic products are distributed worldwide by Full Scale AV.
More information: Prosocoustic