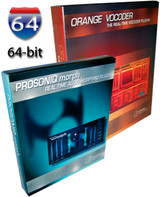 Prosoniq has released version 1.32 of audio morphing effect morph, and version 3.33 of OrangeVocoder, a flexible and transparent sounding vocoder for Mac.
This update makes both products and all accompanying helper applications fully 64bit compatible and improves compatibility and overall performance.

This update installs the 32/64bit Cocoa version of the plug in by default and requires MacOS X 10.5 or better. A 32bit legacy Carbon compatible version is provided for manual installation in order to be backward compatible with older hosts that do no support Cocoa. This is a recommended update for all users and can be downloaded from our updates page. An updated demo version is also available, you can find it on the Prosoniq downloads page.
More information: Prosoniq