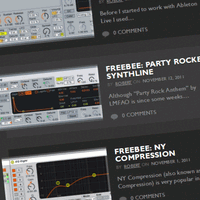 Robert of analogfactory wrote in to share the news of three new free Ableton Live Racks, now available from psychoBlog.
Free Ableton Live Racks
NY Compression

– An Audio Effect Rack which shows how you can do Inline Parallel Compression without using sends.

Party Rocker Synthline

– Is an "analog" Instrument Rack which shows how to rebuild the synthline of LMFAO Part Rock Anthem.

esm bassy synth

– Is a "Simpler" instrument rack with sampled waveforms of the esm bass synthesizer from Logic.
The Racks are available to download completely free from psychoBlog (no registration/email required).
Visit psychoBlog for more information.