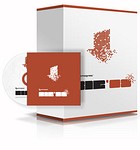 Puremagnetik has released BIG08, an instant injection of Puremagnetik's 2008 catalog.
Recharge your Ableton Live 7 library with over 3 Gigabytes of drum machines, vintage synthesizers, modular racks and more! If you are new to Puremagnetik or a recent monthly subscriber, BIG08 is an excellent way to freshen up your palette of sounds.
BIG08 includes the following "Live Ready" Micropaks from Puremagnetik's 2008 catalog: Digital Beatboxes, Blip, Big Bertha, Guitar Rack Vol. 2, Metalsphere, Vector, AmpPak, Model-C, Analog Bass Vol. 2, TeeBee, PM Mark One, Technosphere.
BIG08 is available now for $98 USD and can be downloaded immediately upon checkout with an option to order DVDs. Purchasing BIG08 saves you 30% as compared to purchasing each Micropak individually.
Visit Puremagnetik for more information.