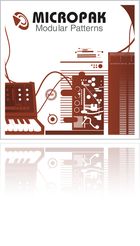 Puremagnetik has released Modular Patterns, a grab bag of over 300 pure analog phrases and expressions recorded through a variety of boutique and legendary modular synthesizers.
Modular Patterns includes a huge collection of thick basses, resonant leads and "analog data" phrases generated entirely within the analog realm. Employing over 20 unique modules for sound generation and expression, each pattern has been meticulously assembled using 3 analog sequencers for the ultimate in nuanced phrasing and voice morphing.
Modular Patterns features
Livewire Audio Frequency Generator – An advanced sound generating device capable of producing 27 distinct waveforms including harmonic animation of various outputs.
Livewire Dalek Modulator – contains 2 linear VCOs and ring modulator capable of cross modulation and horizontal symmetry control.
Doepfer A-155 & 154 – A mighty duo of pure analog sequencing control, advanced step phrasing and dynamic control voltage modulation.
Roland System 100 – A beautiful semi-modular monophonic synth consisting of 5 module components: the Synthesizer 101, Expander 102, Mixer 103, Sequencer 104, and Monitor Speakers 109.
Modular Patterns is available for Live, Kontakt and Logic. You need a subscription to download Modular Patterns (subscriptions start at $5.75 USD for instant access to this MicroPack).
More information: Puremagnetik