Quantiloop has released version 2.7 of its live looper for iOS, now available as a universal app for both iPhone and iPad.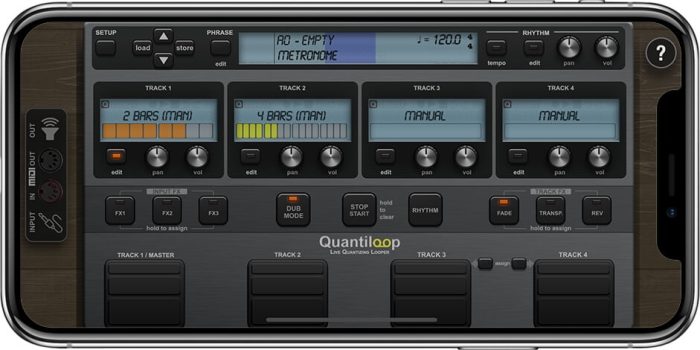 Quantiloop 2.7 offers 4 tracks, a rhythm guide, built-in support for Multi-Channel Audio interfaces, 4 AUv3/IAA capable inputs and 8 individual outputs.
It's the only looper in existence that fully integrates with the Singular Sound Beatbuddy.
Built for Live performance and hands free use, Quantiloop recreates the simplicity of a hardware loop pedal in an iOS app.

Attach a MIDI foot controller and control it the way you want. No MIDI controller at hand; just preset your loop length, enable auto–record or a count–in and your loops will automatically close, no hands or feet required.

Big onscreen controls allow for easy configuration and tactile control by vocalists or beat boxers. Focus on your performance instead of fiddling with dip switches or complex menu's.
Quantiloop version 2.7 is available on the App Store for $9.99 USD/10.99 EUR. The update is free to existing users.
More information: Quantiloop