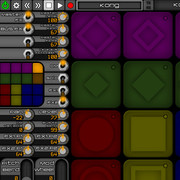 Quantum Clockwork/Continental Laboratories has released Instrumental, a wi-fi MIDI virtual control surface for iOS.
Use your iPad with your favorite MIDI software as a 4×4 Drum Pad, Wicki-Hayden Hex-Keyboard, or full-feedback mixing desk.

Like a USB piano keyboard, except all the controls have full feedback, text readouts and dynamic labels, and you're not limited to just a piano layout. The Wicki-Hayden hexagonal layout is a great way to inspire your compositions.
Instrumental features
Modular control panels that can be swapped around quickly and easily.
All controls can have labels and text readouts provided by the host, or edited on the fly.
All controls have feedback from the host, so you know exactly where everything is set.
Supports the QB Conductor Protocol for reliable low-latency MIDI over Wi-Fi. Conductor servers are available for both Mac and Windows.
Supports the Apple Network MIDI Protocol, available on every Mac.
Connect multiple iPads to the same computer; have your whole band playing through one computer.
Musical layouts with customisable response curves.
Much much more!
Instrumental for iOS is available to purchase for the introductory price of $24.99 USD until June 21, 2011.
More information: Instrumental