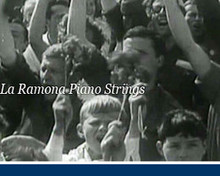 Detunized has released La Ramona Piano Strings, an Ableton Live pack that reassembles the Vermona String Piano.
The original from 1978 features two main sounds named Piano and Strings. Each of them consists of three adjustable registers. So the piano sound is composed of a piano, a clavichord and a spinet layer while the string sound is composed of a cello, a viola and a violine layer.

Like all stringers of this time the instrument is built around a main oscillator that gets divided into 12 frequencies of the according octave. What makes this vintage instrument special is the multiple analog chorus unit that colors the sound in its unique way.
La Ramona Piano Strings for Ableton is available to purchase for €4.80 EUR. New Detunized subscribers pay €1.30 EUR as part of the "3 Pack subscription".
More information: Detunized