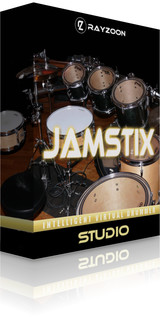 Rayzoon has announced the release of Jamstix 3, a virtual drummer instrument plug-in for Windows.
Jamstix is a new breed of virtual drum software, which simulates a drummer inside of your sequencer/host. Unlike most other drum modules, which either provide static MIDI patterns or an engine that combines pre-recorded MIDI patterns, Jamstix features a state-of-the-art realtime simulation of a human drummer down to the calculation of the time it takes a drummer to move an arm from drum A to drum B. This means that arrangements created with Jamstix are always humanly playable (no ten-armed drummers!) and also always unique and varied since they are created based on rules and not static patterns.

When Jamstix 1 was released in March of 2005, it was quickly praised for its new and innovative approach using rule-based groove intelligence. Jamstix 3 takes this approach to new heights with an improved interface, more styles and drummers and countless new features and enhancements. The new "song builder" function can create a full drum arrangement with many parts and fills in seconds and brand-new stock kits offer incredible realistic sound reproduction.
Changes in Jamstix 3
Much improved interface graphics (courtesy of Scott Kane).
Increased GUI size.
Wizard to aid in creation of song structure.
Easy/advanced brain mode options to ease learning curve.
More styles & drummers.
Time signature support expanded to 7/4 (14/8).
Sample load-on-demand (LOD) to reduce memory footprint.
Snares and toms get left/right/center sounds and all logic is modified to properly support this. Example: groove snare hits are center and a single stroke roll will use left/right hits.
Hands can be assigned tools (drumstick, mallet, brush, hot-rod), which also allows mix-&-match.
Hihat expressive range extended to support tip and shank in the same kit.
Note edit grouping in the bar editor.
'kit' and 'mixer' windows will be integrated into main interface.
Expanded mixer.
Improved fill planning by the A.I. using motion paths.
Grouped kit editing (i.e. 1 set of hihat controls versus the current 7).
Audio output routing/naming based on sound group.
Expanded rolls, wash and rudiments options.
Lots of other small improvements.
Jamstix 3 is available to purchase for Windows PC (Mac version in development) starting at $99 USD. Jamstix 1 or 2 owners can upgrade for $49 USD.
More information: Rayzoon