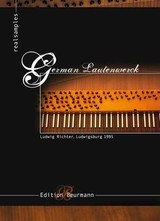 Realsamples has announced the release of German Lautenwerck – Edition Beurmann, a sample library featuring a Lautenwerck (Lute-Harpsichord).
Despite 50 Lautenwerck builders in Germany, not a single instrument survived throughout the centuries. When the instruments had vanished, the awareness had gone as well: Only a couple of decades ago, musicologists found out that such an instrument had existed, solving the mystery of scores mentioning being written for Lautenwercke. Until then, one would have guessed that the composer meant a regular lute instrument by that notion. When the knowledge of it had resurfaced, Professor Beurmann had a reconstruction built by Ludwig Richter in Ludwigsburg, Germany.

The instrument is now available for the first time in the sampler within the German Lautenwerck library, presented in its original Valotti tuning at 412 Hz (presets at 440 Hz are available as well).
German Lautenwerck – Edition Beurmann features
Nearly 700 single samples in total
8 different samples of each note
4 different release sounds of each note
Ready to play HAlion®/Kontakt2®/EXS24® or GigaStudio3® presets
Wave format (except GigaStudio® version)
No mastering applied
Recorded in 192 khz/24 bits resolution and downsampled
DVD or CD set
License-free applicable in your music
The German Lautenwerck – Edition Beurmann library is available to purchase for $139.95 USD excl. VAT and postage.
More information: Realsamples / German Lautenwerck – Edition Beurmann