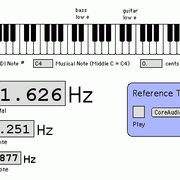 reFuse Software has released version 0.4 of Note2Frequency, a free note-to-frequency conversion utility for Mac.
Note2Frequency is a utility program to convert note names to their frequencies. Press a note on the on-screen keyboard, and it gives you the frequency of that note in cycles per second (Hz). It will also play a sine wave as a reference tone.

Now with version 0.4, Note2Frequency will also go the other way, converting frequencies in Hz to notes! A readout for "cents" was therefore added by necessity, to show where between two notes a given frequency lies.
Changes in Note2Frequency v0.4
Now also converts frequencies in Hz to notes.
Added MIDI Note and Musical Note display/controls.
Added label for Middle C.
Changed startup state to have Middle C selected.
Misc interface improvements.
Note2Frequency for Mac OS X is available as a free download from the reFuse website.
More information: reFuse Software / Note2Frequency