I am very excited to announce the launch of "The Unfinished u-he Synth Contest", a music production contest in which you can win some great sounds and plugins.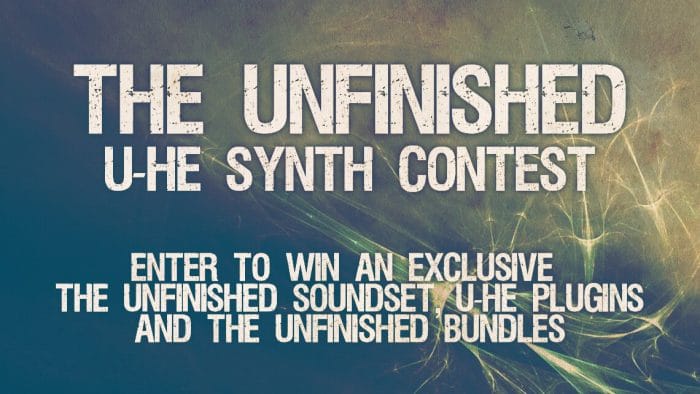 : the contest is now over and the contest pack is no longer available.
For this competition, composer and sound designer Matt Bowdler of The Unfinished has made 20 patches for each of the following u-he synths: Bazille, Diva, Podolski, Tyrell N6, Zebra 2 and Zebralette.
To enter, you need to use some of these 120 sounds in your composition. Besides this restriction, you are completely free to do any genre of music and use any tools, sounds and whatever else you like.
Download the contest pack below, and remember that Podolski, Tyrell N6 and Zebralette are free synths. So even if you don't have any u-he plugins yet, you can pick up those free ones at http://www.u-he.com/ and join the contest.
So what can you win?
We have a wonderful set of prizes, including The Unfinished synth soundsets and bundles, u-he plugin licenses and an exclusive, bespoke The Unfinished synth soundset for the u-he synth of your choice!
1st prize – Bespoke soundset of 50 patches for u-he synth of winner's choice; u-he plugin license; copy of The Unfinished Complete Bundle.
2nd Prize – Two The Unfinished synth bundle of choice; u-he plugin license.
3rd Prize – One The Unfinished synth bundle of choice; u-he plugin license.
Top 10 Prize – The Unfinished soundset of choice.
The winners will be picked by yours truly, The Unfinished, a member of the u-he team, plus Academy Award-winning (BAFTA) composer Jason Graves and prolific sound designer, composer and techno pioneer Si Begg.
The deadline for submitting your track is July 24th, 2016, 11.59pm CET.
Check the contest rules below for more details on how to get your entry in.
Good luck!
Ronnie
Contest rules
Use some of the sounds included in the contest pack in your entry. You are free to use any additional sounds, samples, recordings, etc.
Upload your entry to SoundCloud and submit it to the contest group before July 24th, 2016, 11:59pm CET. Please also send your entry in mp3 format (minimum of 192kbit) per email to contest@rekkerd.org and let us know which sounds from the contest pack were used in your entry.
Your entry should be composed specifically for this contest. By entering, you grant permission for your track to be published at the rekkerd.org website, through SoundCloud. One entry per person is allowed, you will receive a confirmation of your submission.
Winners will be chosen by the judging panel. All prizes are granted at the discretion of rekkerd.org. Some prizes may be subject to specific conditions imposed by the sponsor (e.g. NFR licenses).
Contest rules subject to change.