ROLI has announced a new Studiopack featuring the beats of "Lemon," the surprising new single from Pharrell Williams' N.E.R.D. band.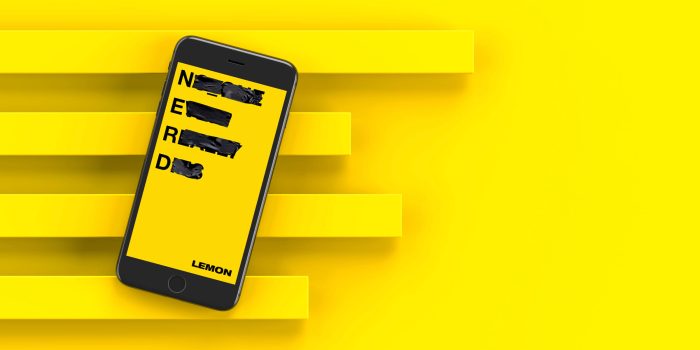 Breaking the mold of the traditional soundpack, "Lemon by N.E.R.D" is a "Studiopack" that deconstructs the song into easy-to-use sonic elements that anyone can build back up and take in their own creative direction. Simply touching the screen of a smartphone or tablet brings the song's sounds to life. Explore the pack today in NOISE, the free music creation app from ROLI.
ROLI's collection of innovative NOISE Studiopacks is growing quickly. The recently released "Happy by Pharrell" — also free in NOISE — breaks down the beats, basslines, and Pharrell's own vocals in "Happy," the chart-smashing global hit.
Studiopacks offer an exciting new way into music for fans, who can move from listening to their favorite songs to actively creating music based on those songs. The packs also offer artists a way to reach new audiences. In coming months ROLI will release more Studiopacks to complement the world-class collection of sounds already available in NOISE.
"Lemon" is the first song since 2010 from N.E.R.D., the legendary group that includes singer-producer Pharrell Williams, Chad Hugo, and Shay Hayley. Featuring Rihanna, it marks the first time that superstars Pharrell and Rihanna have performed together in a song. "Lemon" released on November 1 with an electrifying video starring Rihanna and the dancer Mette Towley.
The Studiopack release follows Pharrell's appointment as ROLI's Chief Creative Officer on October 28. Over the course of a long-term partnership, he will work with the ROLI team to develop revolutionary musical instruments that are iconic, digitally connected, and accessible to all. Their collaboration will accelerate the arc of innovation that began with ROLI's award-winning Seaboard and BLOCKS, which have been called "two of the most compelling music-making devices in recent memory."
Roland Lamb, founder and CEO of ROLI, said:
"The 'Happy by Pharrell' and 'Lemon by N.E.R.D.' Studiopacks are just the beginning of our exciting work with Pharrell and other artists."
The Lemon pack is now freely available for all music-makers to play and adapt in ROLI's NOISE app.