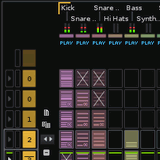 Renoise 2.5 Beta is now available to download for registered users.
Just in time for a new decade, Renoise gets an upgrade from executive suite to penthouse with a panoramic view. The Renoise Pattern Matrix, both a bird's eye view and a song editor, is the missing link that pushes Renoise's unique approach to music composition to the next level. It's the perfect companion to the "eyes on the details" appearance and capabilities of the Pattern Editor.

Renoise meta-devices (FX units that receive and transform parameters and other non-audio data) are now interconnectable across tracks. This opens the door to more modular approaches, like linking LFOs or key/audio signals all throughout your mix. Two new meta-devices round-up this "do anything" experience, giving the sound artist the freedom to connect and modulate all parameters with all others.

That's just the beginning. Vastly improved MIDI mapping, automated rendering of plugin instruments to samples, a native guitar & bass amp simulator FX, performance optimizations, GUI improvements and much more…
Changes in Renoise 2.5 Beta
Pattern Matrix: A birds eye view and editor of the song.
Cross Track Routing for "Meta Devices" and new devices like the "Signal Follower", which allows you to sidechain other tracks parameters.
Plugin Grabber: Render Plugin Instruments to Renoise Instruments, Samples.
Vastly Improved MIDI Mapping.
A Bunch of New Internal Effects.
And much more…
Renoise for Windows, Mac and Linux is available to purchase for 49 EUR excl. VAT (will be 59 EUR when Renoise 2.5 final is released). Existing Renoise users can download the 2.5 beta version now.
More information: Renoise