Reverb Machine has announced the release of Omni, a sampled Omnichord instrument for Ableton Live.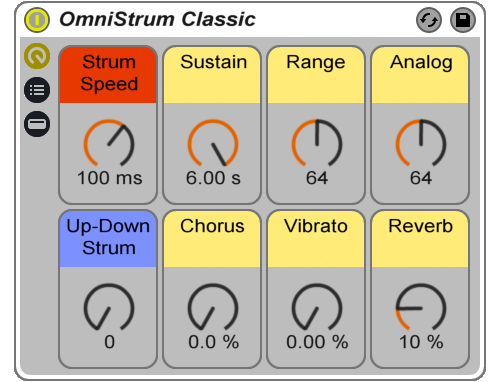 Following up on the recent Drumtraks, this new instrument contains all the sounds of the classic Suzuki Omnichord and several sounds from the modern Q-Chord.
The original Omnichord OM27 was released in 1981, and was loved for it's charming 8-bit sound and the ability to strum it like an auto-harp. Famous users include Grizzly Bear, Arcade Fire, David Bowie, Brian Eno & Daniel Lanois, Gorillaz, Mark Mothersbaugh, and Jim James of Morning Jacket.

Although the strummed SonicStrings are the most utilised feature, the Omnichord also provides the player with organ-style chords, auto-bass patterns and drum loops, allowing the player to emulate the sound of a full band. There are many different ways of playing the Omnichord, and I've aimed to make this Ableton Live Pack as diverse as possible. I sampled my old, beaten up Omnichord OM36 and six sounds from my Suzuki Q-Chord. The strummed instruments mimic the Omnichord with complete accuracy, and allow you to create fully adjustable strummed arpeggios for use in your own music.
Omni features
320 samples, 24bit WAV.
7 strummed instruments with 7 chord types.
7 keys instruments.
10 auto-bass instruments.
2 organ chord instruments.
drum loop instrument.
MIDI Strum Device to create your own strummed instruments using any sound you like.
Omni for Ableton 9.7 or later is available for $22 USD. It is also included in the Ableton Bundle and the Complete Bundle.
A free Omni Lite version includes all the major, minor and dominant 7th arpeggio strums from the OmniStrum Classic instrument.
More information: Reverb Machine