RealtimeOnly has announced the release of Reverbical, a quality-with-ease stereo reverb plugin with a highly accessible preset interface.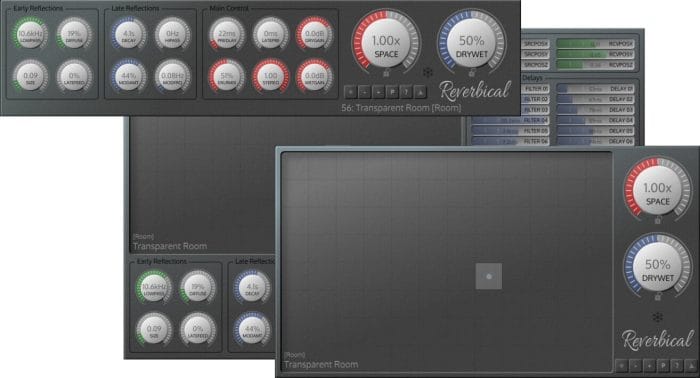 Reverbical is a state of the art stereo reverb unit, featuring a unique preset grid for single-click access and navigation over a large variety of spaces. From light ambiences to large halls, 96 Presets can be seamlessly switched in realtime, and expanded or reduced in size with a single 'Space' master control. With just two lockable main parameters, 'Space' and 'DryWet', any parameter complexity and confusion is avoided, making it easy to quickly find and apply room sounds without further knowledge. For deeper finetuning and creating custom presets, the 'Deep Tweak' view offers all the classic controls like Decay, Diffusion, Modulation and alike. Extra parameters allow to adjust LatePreDelay, seperate Dry- and WetGain, and even the individual delays and filters in the absorption network. For pure editing tasks and to save space on the screen, a third view offers a rack-type control panel in reduced size.

With its dedicated preset interface approach, Reverbical brings back into focus what it is all about: The space that is created – and not the parameter by itself. Combined with a detail-crafted sound quality for spaces of any size, Reverbical seeks to rival top-notch units on the market while keeping an affordable price.

In addition to a large factory set with spaces of all sizes, Reverbical comes with exceptionally inspired presets from selected artists and sound designers – Lusine, INFRA, Den and Simon Stockhausen.
Reverbical features
High quality stereo reverb algorithm for any room size.
One-click access to 96 presets per page, drag/drop-enabled.
Easy to understand, straightforward control with only 2 main parameters.
Deep tweak mode with individual delay and absorption settings.
Smooth parameter and preset switching.
Early Reflection colouring for diversity especially with small spaces.
Wide Late reflection stereo image based on a human perception model.
Fantastic artists and sound designers presets.
Freeze feature, Late PreDelay, individual Dry and Wet Gain.
DryWet Lock and Space Lock to keep the same mix/space value when.
switching presets.
Setting to preserve or discard user edits when switching presets.
Preset management with clipboard integration.
Visual colour-coding of similar room type presets (4 modes).
3 switchable View modes: Grid, Deep Tweak, Classic.
Highly performance optimized C++ code using SSE instructions.
No dongle or internet access required for activation.
For VST, AudioUnit, AAX for OSX and Windows, in 32 or 64 bit versions.
Reverbical for Windows and Mac (VST/AU/AAX) is available for purchase for the introductory price of $49 USD until June 20th, 2016 (regular $89 USD). Prices incl. tax. Demo versions are available for download.
More information: RealtimeOnly