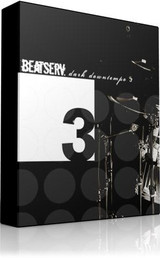 Regular rekkerd.org readers are probably familiar with Beatserv, the sample production outfit of Dean Dunakin and Wade Alin.
Beatserv provides premium, royalty-free drum loops for creative use in audio production and performance.

We utilize professional music producers, programmers, songwriters and musicians to achieve the highest quality samples and compositions. With a strong emphasis on superior production and unique creativity in our products, our goal is to support and foster excellence in both professional and hobbyist audio projects.
True to the saying "a picture is worth a thousand words" Dean and Wade's about us image leaves no doubt that you should expect something different from these guys.
Their latest work is Dark Downtempo 3, a collection of 30 original low tempo beats.
For this sample library Wade recorded some samples with drummer Matt Cordier, who also tours with Wade's downtempo band The Atomica Project. Wade took these samples into the studio and started crafting them into Dark Downtempo 3.
The beats — 234 in total, are neatly categorized in folders indicating the tempo (44bpm to 88bpm), with diverse variations for each beat, including dry and effected versions, breaks, etc. for flexibility.
Also provided are two drum kits (clean and processed) in Battery and Ableton Live Drum Rack formats.
So what do I think?
Product
: Dark Downtempo 3 by Beatserv
Format
: 24bit WAV/Apple Loops (+ Battery & Live Drum Rack)
Price
: $49.99 USD
On the Beatserv blog Wade writes about these beats: "Each one of them are like my kids, I'd be happy to use them as a producer, as an artist. Very proud of this release!"
This is the kind of thing you would hope every sample producer could say about their work. The love, care and attention to detail that went into this sample library shows. Each beat has a unique sound while retaining an overall consistency and high standard quality throughout the library, both musically and production wise.
The single shot drum sounds (and Battery and Live Drum Rack) are top notch as well, great for creating your own loops or adding elements to the existing beats.
In short, Dark Downtempo 3 is an outstanding and inspiring collection of samples for any downtempo music genre.