If you have a good look around on the web, I'm sure you will find tons of breaks available for download. Most of them will be samples taken from vinyl records from the 60's and 70's.
But what if you want something original? Or to put it like Dusted William:
What do you do when you have a passion for the funk and you crave that old school break beat sound?

You either record a dope ass set of drums played by one cool mofo, in a studio that is tighter than you're Mama's blue jeans, on mics that pride themselves on the ability to listen in on the secret conversations of butterflies….

…or you buy the

DUSTED WILLIAM SOUNDS SUPER FUNKY DOPE ASS DRUM LOOPS!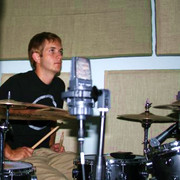 Super Funky Dope Ass Drum Loops is a sample library (currently at version 3) featuring over 200 drum loops, with tempos varying between 61 and 138 bpm.
The loops were recorded with various mics (including room and overhead) and mixed stereo from a total of 11 channels. The drum room was optimized for recording the drums as dry as possible.
The library is available in wav, RX2, SoundFont and sfz formats. You also get some MIDI files which can be used with the soundfont and sfz, so you can use the exact grooves in your sequencer and edit them to your liking.
Super Funky Dope Ass Drum Loops is available as a downloadable sample pack for $29.99 USD. Check the product page for some audio clips, and a link to download the SnakPak, a free pack of 6 wav & rx2 grooves.
So what do I think?
These drum loops are tight, dry & funky indeed. You get a good variety of grooves, useful not only for funk music, but also things like hip-hop and drum & bass, the genres that often feature this type of sampled breaks.
The pack includes some unique grooves and I don't know what it is, but the drummer seems to have this lovely imperfect timing thing going. I know I said these loops are tight but I didn't mean the beats are on the dot, like a programmed beat. They have that funky laidback, slightly off beat vibe which gives them great character. The recordings sound good, but not too clean so it retains a vintage feel. Tight!
Visit Dusted William Sounds for more information, and don't forget to download the free Snakpak.