As someone who prefers to work "inside the box" I was pleased to see FXpansion introduce its DCAM: Discrete Component Analogue Modelling sound generation technology with the release of Synth Squad. The modelling of individual circuit components enabled FXpansion to put some of that vintage analog flavor in its digital products.
Much in the same way, Tremor takes drum synthesis to a new level.
Tremor is a software drum machine with powerful synthesis, effects, modulation and step-sequencing. DCAM circuit-modelled sound generation is fused with new ideas to produce original sounds with the punch and extreme sound pressure of old-school analogue.

Tremor's dance drums, funky beatscapes, abstract machines and undiscovered sonic terrain are suited to all kinds of electronic, urban and experimental music.
Just to make sure we're on the same page, Tremor is all about drum synthesis. There are NO samples. FXpansion's drum sampler instrument Geist (the successor to Guru) already covers this base. Who knows, in the future FXpansion might combine the two into something new or provide some add-on type thing, but for now these are totally separate products.
As the above screenshot hints, Tremor is a full-featured drum synthesizer instrument. Its main features include:
DCAM-modelled synthesis and FX
Specialised oscillator with drumskin vibration partials
Filtering and drive with multiple responses
Deep, intuitive TransMod modulation system
Polyrhythmic pattern step-sequencer
Sporting a total of 8 individual – and identical – synthesizer modules, Tremor allows you to build your drum kits within a single instance. The specialized oscillator in each module has controls for pitch (and fine), shape to morph the osc waveshape from saw to square to triangle, PWM which sets the pulsewidth for the square waveshape, FM for pitch modulation with speeds up to 1024 Hz (allowing audio rate modulation), and a sync control for adding harmonics by increasing the oscillator frequency while syncing it to the sub oscillator.
The Harmonics section has only four knobs and a single switch for controlling the oscillator partials, but much of what sound you will end up with is determined here. The details of what exactly goes on in this section gets a bit technical but basically you get the drumskin vibration emulation in "Membrane" mode, while the "Harmonics" mode resembles a regular synth.
A bandpass filtered white noise generator can be mixed with the oscillator to create snare, hihat, and clap type sounds, or sound fx type things like noise sweeps. The sub osc control with three octaves is also available from the mixer panel.
To further shape the sounds you get pre- and post-drive with various modes, a multi-mode filter featuring clean and fat models with various response modes, (G)LFO's with sync options, S+H, three envelopes, and a comprehensive modulation system named "TransMod". Tweaker's paradise!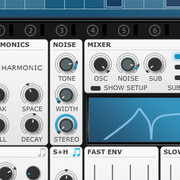 The TransMod modulation system allows you to route a single modulation source to multiple synthesis and effect parameters, each with its own definable depth.

Modulation depths are represented visually on the parameter itself, rather than in an abstract list of assignments.
The TransMod system is an impressive piece of work, with lots of advanced features for creating dynamic sounds. A modulation source can be routed to multiple synthesis and effect parameters, so if you are an experimental sound designer you will love this.
FXpansion has also made sure to include a bunch of built-in effect units that can be used in up to 3 FX slots – the FX Chain – available from the synth fx (individual fx/chains for each of the 8 synths) and master fx panels. Dynamics, equalizers, filters, modulation fx, delay, reverb, distortion, and more effect units allow for powerful sound processing, especially since you can use the TransMod system to modulate fx parameters.
Tremor comes with an internal step sequencer with 24 patterns, in which you can create rhythms simply by clicking on the step cells for each one of the 8 sounds available. The sequencer shows note velocity, repeat and probability values and a little arrow indicated the length of a track (which can be different for individual tracks). Creating patterns is quite intuitive and use of mouse, drag and key combinations offers a nice workflow. Each pattern also has up to 4 "graphs" for creating automation sequences.
The editing features of the sequencers are pretty comprehensive and include things like stretching and expanding of values, invert, reverse, global randomize, and more. Patterns are mapped to MIDI notes for easy triggering. All in all the sequencer is both fun and powerful. So much even that I am using it to drive other instruments by sending the patterns to Tremor's MIDI out.
If you prefer to automate parameters from within your host or with external controllers, Tremor also includes mapping and MIDI learn systems.
This is Tremor in a nutshell, and if you made it this far in this review and you are still interested you should go get the 30-day trial version and dig in. To be honest, Tremor's factory presets and demo songs left me somewhat unimpressed but when I actually tried the plugin I instantly experienced the potential of this instrument.
If you're pressed for time and still want to get a good impression of what Tremor is capable of, you should check out the demo tracks for the Tremendous Beatz soundset. Patchpool's Simon Stockhausen does a fantastic job showcasing the versatility of Tremor with some quality sounds, check it out below.
So what do I think?
Product
: Tremor by FXpansion
Format
: VST/AU/RTAS/standalone for Mac and Windows
Price
: $149 USD / 119 EUR
Like
: Great synth engine, rich feature set, intuitive & fun
Don't like
: Can be CPU intensive
Verdict
: 9/10
Tremor offers great sound quality and the it is well capable of producing traditional drum machine sounds, as well as some more abstract, experimental type of percussive stuff. Add to that an easy to use sequencer, a great selection of effect units and a comprehensive modulation system, and you have a proper beast at your fingertips. With all that power comes great responsibility. Using up to 8 individual (polyphonic) synths and effect chains can get a bit CPU intensive. On my 3 Ghz Intel Duo core I easily hit 50%, but I take that without complaint. Tremor is not the first plug-in that reminds me that quality comes at a cost.
You would perhaps expect an instrument like this to be rather complicated/hard to use, yet FXpansion managed to give Tremor a clean, intuitive workflow with clever visual feedback on the interface. Creating sounds, building kits, and sequencing rhythms proves to be engaging and fun.
Tremor is a most excellent drum synthesizer workhorse for anyone interested in creating drum and percussion sounds with a computer. Intuitive, flexible, and abundantly inspiring.
Well done, FXpansion. Well done indeed!