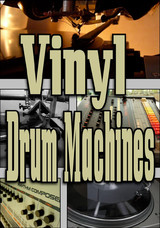 Goldbaby has released a new collection of drum samples: Vinyl Drum Machines.
Nope, Hugo @ Goldbaby hasn't been crate digging for obscure vinyl for his latest product. Instead he had his own acetate record cut so he could sample drum machine sounds to get that authentic vinyl touch.
Sampling off vinyl has been a staple of many producers since samplers were invented. Vinyl has an unmistakable sound. Using it as a sample source you get material that is dripping with personality and warmth, that digital sources just can't recreate.

I have always wanted a record with just drum machine samples on it. Finally I did something about it.
You can see a video of the making of the acetate here.
The result is a record with of 14 drum machines: Linn Drum, TR-626, CR-78, MBase 01, DR-110, Linn LM-1, Drumulator, TR-808, Ritmo 12, TR-909, TR-505, µTonic, SP-12, TR-606.
The drum machine sounds were then sampled from the vinyl record, using 3 different turntables:
Pro-Ject RPM + Pro-Ject Tube Box II — audiophile equipment for pristine recordings.
Technics SL-1700 + Leak Variscope — vintage setup with a late 70's turntable and a 60's phono pre-amp.
Vestax Handy Trax — portable record player which runs on batteries; lo-fi!
The end result: 1468 x 24 bit samples.
Besides all the drum machine sounds, Hugo also sampled some bonus content: vinyl noise, vinyl clicks, vinyl hitz and center grooves.
Vinyl Drum Machines is available in Wav, Battery 3 and Guru formats (ReFill soon) starting at $29 USD.
So what do I think?
Every time I see a new Goldbaby I wonder how it is going to be different from all the other drum machine sample libraries I've seen before (including Goldbaby's own libraries), and time after time he manages to exceed my expectations.
Vinyl Drum Machines is a fantastic idea, and perfectly executed. The samples are top notch quality as per usual and the selection of drum machines used provides plenty of variety.
And here's a nice tip from Hugo:
I have been experimenting with velocity switching between the different record player versions of each drum sound. Hit a pad/key lightly and it plays the plastic portable turntable version, hit it harder and it plays the audiophile version and hit it really hard and it plays the vintage record player version.

Makes for some interesting dynamic drum machine sounds…
Check out the sound clips on the product page and get your wallet out… there is a good chance you're going to want these!
Visit Goldbaby Productions for more information.