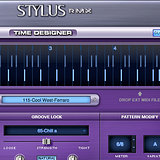 Spectrasonics has released version 1.7.1e of Stylus RMX, the groove-based virtual instrument plug-in for Macintosh and Windows.
Changes in Stylus RMX v1.7.1e
Automatic creation of SAGE shortcut doesn't perform validation on SAGE folder.
Sync-to-host initially plays out of sync from bar 1/beat 1 in Cubase.
Auditioning grooves with sync-to-host on but transport stopped sometimes play out of sync.
Phew and Phar grooves in Example Groove Menus/Classic Stylus Groove Menu 1 cause crash.
Automating certain parameters causes graphics artifacts in some hosts.
Mixer page doesn't update mute display properly when restoring a song which has solo on.
Including tempo in midi causes problems on some hosts.
Visit Spectrasonics for more information.