Native Instruments has recently released George Duke Soul Treasures, a Kontakt Player powered virtual instrument featuring sounds by the legendary George Duke.
GEORGE DUKE SOUL TREASURES is a treasure trove for producers looking for instant soul for their tracks.

Exclusively recorded for Native Instruments by American soul and jazz legend George Duke, over 500 soul-drenched keyboard loops are ready to go, and without the need to dig for samples through crates of dusty vinyl.
Even if you don't know George Duke there's a good chance you have heard some of his work. Check this lovely interview with George below.
Made it through the video? You probably already went on over to the NI Online Shop to buy this library, right? Hello?
George sums up this library pretty well when he explains about the project:
"I was trying to figure out exactly what to play and eventually I just said you know what? I'm just gonna play, because you never know what these guys may wanna use, and so I just let my mind just go, and I mean I played for hours in here. Just playing, okay keep the tape rolling, just rolling just playing… and whatever came out came out."
And that's exactly what Soul Treasures provides. Tons of authentic soulful sounds that are just dying to get chopped up and manipulated to fit your own productions. No crate diggin' required.
Soul Treasures offers loops in four categories: Electric Piano (Rhodes), Grand Piano (acoustic), Wurlitzer and Clavinet. The phrases were recorded using vintage equipment, with both "clean" and "tubes and tapes" signal routing. The tubes and tapes versions were done with lots of analog outboard gear to get that authentic warm vibe. Check the diagrams for details.
The library comes with an advanced Kontakt instrument interface, allowing instant access to various tools to re-arrange phrases and extensively tweak these sliced and tempo-synced loops.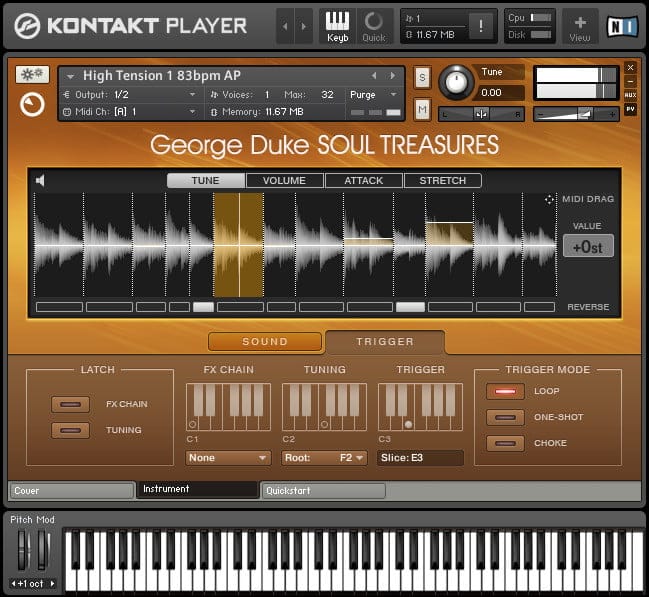 In the "Waveform Display" you will notice four buttons in the top middle: tune, volume, attack, and stretch. To change values for these you simply click and drag in the appropriate slices. Very intuitive. Under each slice is a button for reversing the sample and you can drag MIDI sequences to your DAW directly from the waveform display. A handy audio preview button is located in the top left of the display.
Below the waveform display are two page buttons. The
Sound page
includes controls for:
Signal chain selection, clean or tubes & tape.
Time strech, which activates Kontakt's Time Machine – syncing loops to the tempo of Kontakt or the host application.
Filter section with 8 filter types.
Echo & Room section with various reverb (impulse response) and delay effects.
The Trigger page is where you control the way the instrument behaves when triggering the slices and effects with your controller, or via the keyboard in the Kontakt interface.
Keyboard sections for FX Chain, Tuning, and Tigger. A white dot indicates an active preset/tuning/slice, and dropdown menus are available for selecting different chains and root tuning.
Latch section with toggles for the fx chain and tuning so that the setting will stay active after releasing the key.
Trigger modes include Loop, One-Shot, and Choke (when a new slice is played it mutes the previous sound).
All these controls make for a pretty flexible instrument, though there are some downsides. Using time stretching on the loops inside the Kontakt has its limits (things sound quite warbly once you move away too far from the original bpm a phrase was recorded in), and you can't set slices manually.
This can be a minor or major issue depending on how you want to use these sounds. However, Native Instruments provides an additional full set of 24bit wav files for use in other applications. Brilliant!
So what do I think?
Product
: Native Instruments George Duke Soul Treasures
Format
: Kontakt/Kontakt Player NKI's + 24bit/44kHz samples
Price
: 99 EUR / $119 USD
Like
: authentic sound, intuitive and versatile interface, wav files included
Don't like
: no manual slicing, timestretching limitations
Verdict
: 9/10
This is definitely one of my favorite Kontakt instruments. Soul Treasures delivers some outstanding original soulful & funky samples. In combination with Kontakt it becomes a proper instrument with various ways to manipulate the sounds on the fly.
The range of sounds and melodies is more versatile than you might expect. I love hearing subtle nuances in the phrases and I can just imagine George as he was recording these sounds, for hours and hours. It feels and sounds like a labor of love.
In short, I think Soul Treasures is a true gem. When you think of it, it's really amazing that you can actually buy a set of performances by this legendary musician. The samples are truly inspiring and I reckon the sounds of Soul Treasures will be used in countless modern day productions.
More information: Native Instruments / George Duke Soul Treasures