It's only been 4 years since the initial Pigments saw the light of day, and Arturia has already released as many versions of the popular polychrome software synthesizer instrument.
The dual-engine synth has grown to feature 4 types of sound engines (wavetable, 3-oscillator virtual analog, sample & granular, and additive/harmonic), a utility engine, flexible modulation, effects and sequencing capabilities, and a huge factory library of inspirational presets. And for all its complexity, the interface is arguably intuitive and easy to use.
While the newly released Pigments 4 doesn't necessarily look like a major update, it brings quite a lot of worthwhile improvements to the synth that already packs so much.
The classic dark GUI theme has been joined by a light version, and a new "Play Mode" offers a simplified view with a few main controls to manipulate the patch.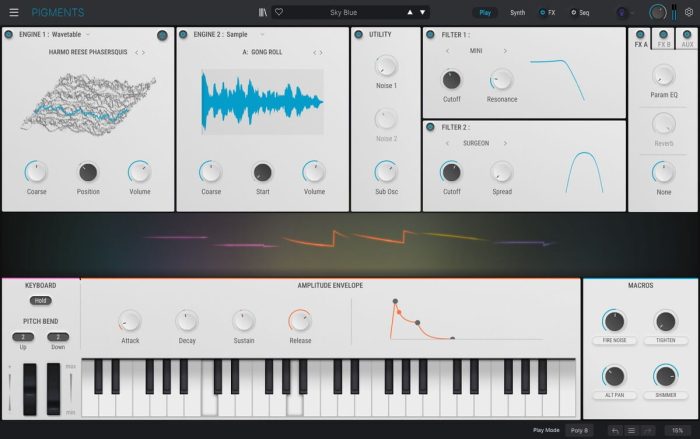 The advanced color-coded modulation system now lets you drag and drop modulation sources directly to destinations, and other workflow improvements include compatibility with ODDSound's MTS-ESP microtuning, new LFO waveform presets, and bypass buttons for the FX and sequencer in the top toolbar.
The factory library has been expanded with more presets (now at a total of 1,400), wavetables, samples and noises, and the synth comes with an updated wavetable engine (ring modulation and pulse width phase transformation) and harmonic engine (phase modulation and partial randomization), as well as a few new effects.
The considerable collection of filter types sees the addition of a resonant MS-20 filter, great for making sounds scream. A Shimmer pitch-shift delay/reverb effect will have you design ambient sounds in no time, and there's also a new Super Unison module that can double your signal up to 8 times, and detune, modulate and stereo-spread the sound. The synth now sports a total of 18 effects, with some of them having been updated with improvements for Pigments 4.
So, perhaps not as big an update as previous versions (at least sound-wise), but Arturia keeps finding useful additions to bring more value to this powerful synth. And, once again this update is completely free for existing Pigments users!
So what do I think?
Running a blog like Rekkerd comes with the perk of having a huge arsenal of plugins at my disposal. But when it comes to softsynths, there's only a few I typically reach for time and time again: Diva, Massive and Serum.
Even though I've only had a few days with Pigments 4, I can already tell this one will become a staple in my music productions as well. Playing around with the presets of the factory library had me wander off with new ideas quite a few times, and creating some sounds from scratch was both fun and effective.
Most importantly, I'm feeling a click with Pigments. The interface is intuitive to me, and I find the original dark theme, its colors and real-time visual feedback really pleasing to the eye. With Pigments' versatile sound engines, advanced sequencer and arp with randomize options, colorful effects and flexible modulation system, Pigments 4 is an excellent all-round synthesizer for those who like to play and modify the presets available for it, and those who enjoy deep diving into sound design alike.
Pigments 4 is on sale at a discounted price of 99 USD/EUR at the Arturia store and from distributors Plugin Boutique and ADSR Sounds until January 4th. A purchase also includes 3 new "Wavelengths" sound expansions with 150 presets each, so now is an excellent time for new users to pick up this synth.
Check out the official overview video of Pigments 4 below, and try the free demo version of the synth to see how you like it.