As someone who grew up in the '80s, things like cassette tapes and VHS were a big part of my childhood. I had a walkman glued to my ears for years, and I enjoyed recording vinyl to tape so I could take my boombox and play music anywhere.
I continued to use tapes for many more years, well into the era where superior digital formats took over. Superior in audio quality, but not necessarily "better" in every way.
Many of the tools used in music production are designed to offer a pristine, high quality sound. And that's great. But sometimes you might want to move in the opposite direction… Tape can produce some sonically satisfying distortion, saturation, something you might call "warmth". Adding some of that tape feel to music productions seems to have become a popular thing in recent years, with genres such as Synthwave and Lo-Fi Hip Hop often going for a "not so perfect sound".
There are quite a few tape emulations out there, with one of the latest additions being Caelum Audio's Tape Pro.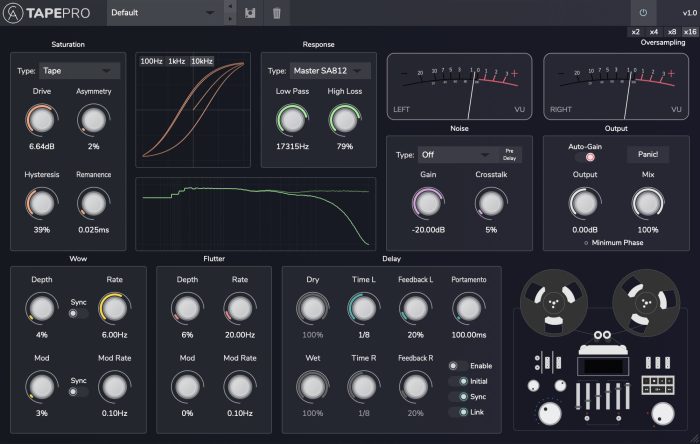 Tape Pro is a multi-fx tape audio plugin and app that introduces warmth, frequency shaping, modulation, noise and delay. Whether you want to accurately replicate a microcassette tape running at 1.2cm/s, or you want to drive a mastering grade tape machine with strange distortion shapes into a high feedback delay engine, Tape Pro is the plugin for the job.
The plugin has an easy to use interface with a few sections:
Saturation with various distortion types (Tape, Digital, Rectify, Half-Rectify, Sine, Smooth).
Dynamic frequency response featuring 12 different recorded tape impulse responses.
Wow and Flutter tape speed fluctuations.
Analog tape delay machine emulation.
Noise module with real, sampled tape noises.
Output section including auto-gain.
The plugin comes with some 40 presets in various categories (delay, modulation, saturation, mix bus, misc), alongside basic presets for all 12 tape models and minimal phase version of the same models for using Tape Pro in parallel.
Caelum Audio's demo video gives you an excellent look at what you can do with Tape Pro, and shows how versatile it is.
So what do I think?
While I'm not familiar enough with real tape machines to make any comparison, I think Tape Pro sounds absolutely great. I use it to add a subtle analog vibe to tracks, and glue the mix.
What I love best about Tape Pro, is to use it as a creative effect. The combination of tape saturation, textures, warble and delay is highly useful for sound design and turning any plain sound into something interesting with the turn of just a few knobs.
Tape Pro is available on dekstop (VST3/AU) for £39.99 GBP at Caelum Audio and distributor Plugin Boutique, and the iOS/AUv3 version is $4.99 USD at the App Store.
I highly recommend you try the free demo version of the desktop plugin to see how you like it. Also, make sure to grab Tape Cassette 2 to get a taste of Caelum Audio's tape emulation, it's completely free!